The Facts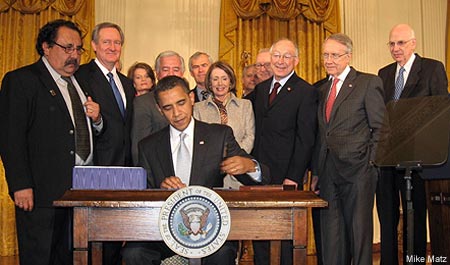 Wilderness designation is the strongest form of protection for federal public lands in the United States. Passed in 1964, the Wilderness Act was designed to preserve the nation's most special and wildest lands as they are, for future generations to use and enjoy for activities such as hiking, hunting, camping, climbing, fishing, bird watching and picnicking. Wilderness areas cannot be logged, drilled, mined or otherwise developed.
Upon its inception, the Wilderness Act established the National Wilderness Preservation System and immediately designated 9.1 million acres of wilderness across 13 states. Since then, an additional 100 million acres of wilderness have been added to the system. This "common ground" is public land that every American owns and shares.
Wilderness is designated by an act of Congress. The Campaign for America's Wilderness of The Pew Charitable Trusts partners with local state-based wilderness organizations that work to see favorite wild places given the "gold standard" of protection―wilderness. Together, we build grassroots support, work with stakeholders and local communities and then work with members of Congress who introduce legislation to safeguard these lands.
The Challenge
In the 110th Congress, 16 wilderness bills sat pending―16 bills that the Campaign for America's Wilderness and activists around the country had been advocating for years. These bills had gone through the committee process and were awaiting a vote. Because of Senate rules, a single member could prevent any bill from being voted on, and time was running short. In order to move forward, Senate leadership decided to combine more than 100 bills into an omnibus package, which would have the support of enough members to pass.
Our Goal
Our goal was to win passage of the omnibus public lands package by raising its national visibility and emphasizing the importance of its wilderness provisions, highlighting its broad and bipartisan support and the legacy these lands would leave for future generations. Only then could America's wildest lands become a priority for lawmakers and receive floor time for a vote.
The Results
The Senate adjourned without a vote. But the package was reintroduced in the 111th Congress as one of the earliest orders of business. The Omnibus Public Land Management Act passed March 26, 2009, and became the first environmental bill signed into law by President Barack Obama on March 30, 2009.
This measure added 2.1 million acres of federal land in nine states to the National Wilderness Preservation System; protected more than 1,000 miles of Wild and Scenic rivers; established a 26 million-acre National Landscape Conservation System; and added 10 National Heritage areas. It was the largest expansion of U.S. wilderness in 15 years.
View Photos of the Protected Areas:
What You Can Do

Congress continues to protect wild places that have the support of local communities around the country. You can get involved with your local wilderness organization and stay informed about what is going on with wilderness areas across the nation with our monthly e-newsletter.