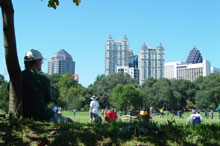 The Minnesota Department of Health is conducting a health impact assessment (HIA) of the potential health effects of the Lincoln Park Small Area Plan (SAP). The HIA will look at how the SAP recommendations can be improved to create a healthier, more vibrant neighborhood.
This is part of a Health Impact Project HIA program grant. As part of the work of that work, Minnesota Department of Health will establish a state-level interagency work group and a coalition of local agency and nonprofit partners to support HIA training and technical assistance. The department will also create tools and develop state-level policies to help make HIA a routine part of decision-making.
The Minnesota Department of Health is also conducting an HIA to inform the Gary/New Duluth Small Area Plan. It previously conducted four HIAs: 6th Avenue East Duluth HIA, Divine Mercy development HIA, Douglas County comprehensive plan HIA, and the St. Louis Park comprehensive plan HIA.