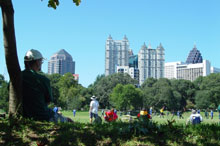 Mid-City Community Advocacy Network (Mid-City CAN) and their Youth Council worked with Human Impact Partners to conduct an HIA to examine health and equity implications of a skatepark proposal in City Heights, a neighborhood in San Diego, California. City Heights has an inadequate supply of parks, open space, and recreational opportunities for youth, and obesity rates in City Heights are higher compared to San Diego County overall. Possible sites are limited but one option being considered is an empty dirt lot currently owned by the City of San Diego, but leased to the YMCA.
Funded by The California Endowment through the Building Healthy Communities program.
Outcome
The skatepark was constructed in the residential heart of San Diego's City Heights neighborhood, and a second, larger skatepark is set to open in the fall of 2017.