Upper Chester Development Plan
Location

Cleveland

,

Ohio

Organization(s)

Cleveland City Planning Commission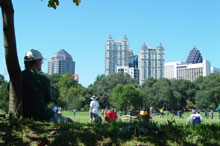 This heath impact assessment will inform the revision of the Upper Chester Development Plan—a neighborhood master plan—and guide all future development in the low-income Cleveland neighborhood of Upper Chester. The master plan was originally created in 2007 but was recently catalyzed by a private sector developer. The HIA will provide recommendations on the proposed plan, which requires approval by the Cleveland City Planning Commission. It will also examine the potential impacts to health by the proposed development plan, such as access to quality food and green space, proximity to educational resources, improved air quality, and accessibility to jobs.
This HIA is funded through a Health Impact Project program grant. As part of the work to establish an HIA program in Cuyahoga County, OH, the Cleveland City Planning Commission and agency partners will develop formal criteria for selecting future HIA projects and will highlight local HIA efforts as a regional best practice through the Northeast Ohio HIA Partnership, and the Cuyahoga County Place Matters team. The Cleveland City Planning Commission is also conducting the Eastside Greenway project HIA, and it previously conducted the Urban Agriculture Overlay District HIA.
This HIA program grant is supported through funding from Saint Luke's Foundation of Cleveland.