Phoenix Light-Rail Transit Extension
Location

Phoenix

,

Arizona

Organization(s)

Arizona Department of Health Services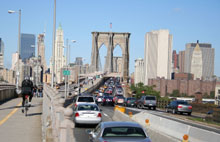 This health impact assessment will inform the transit extension connecting South Phoenix, a disadvantaged neighborhood, to the existing light-rail line of the city. The HIA will address improved access to health care services for the prevention and management of diabetes, the impact to asthma from reduction in air pollution, and the effect on the death rate from a potential reduction in motor vehicle accidents. Valley Metro, a public transportation provider in the Phoenix area, is the key decision-maker and has supported previous HIA work in Arizona. Additionally, this HIA will be undertaken in tandem with an environmental assessment to provide a more comprehensive approach to future transit planning projects.
This HIA is funded through a Health Impact Project program grant. The project team will develop a robust, self-supporting HIA program that will involve state and county agency partners in providing HIA technical assistance resources, support specific agency policies that require a consideration of health in future decision-making, and to develop a network of HIA practitioners within Arizona.
The Arizona Department of Health Services is also conducting the Madison Heights HIA. It previously conducted the Tempe modern-streetcar HIA, the Maricopa County sodium and nutrition standards procurement policy assessment, and the Sycamore Light Rail Station HIA .
More Information
HIA Website:

Organization Web Site:

Contact Email: