City of Minneapolis Above the Falls Master Plan
Location

Minneapolis

,

Minnesota

Organization(s)

Minneapolis Department of Health and Family Support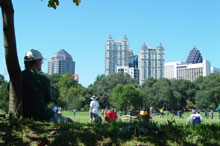 This HIA informed revisions to the City of Minneapolis Above the Falls Master Plan, which will guide redevelopment of an industrial area along the upper Mississippi riverfront in Minneapolis. The Master Plan, being drafted by the City of Minneapolis Department of Community Planning & Economic Development, is intended to increase public access and use of the waterfront, improve housing and employment opportunities, and reduce environmental contamination. The area includes more than two miles of riverfront, and extends into surrounding low-income neighborhoods with high baseline rates of health problems including asthma, diabetes, and violent injury.
MDHFS conducted this HIA in collaboration with the City of Minneapolis CPED and the Minneapolis Park and Recreation Board to assess the ways in which proposed elements of the Master Plan will impact health through, for example, changing exposure to air and water pollution, developing park land along the riverfront to provide opportunities for exercise, revitalizing substandard housing, and attracting businesses to the area. In turn, the HIA provided health-based recommendations to be incorporated into the plan in order to optimize the impacts on health.
Supported by the Blue Cross and Blue Shield of Minnesota Foundation.