Gary/New Duluth Small Area Plan
Location

Duluth

,

Minnesota

Organization(s)

City of Duluth, Minnesota Department of Health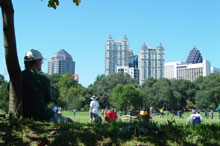 The City of Duluth Long-Range Planning staff are working to create a small area plan, which could impact health by improving blighted properties, developing vacant land, cleaning contaminated land, connecting sidewalks and adding bike lanes, promoting businesses and job growth, increasing green space and connecting the community to new recreational opportunities, and more. The HIA was conducted in parallel to the plan's development and provided an opportunity to work with the community to identify existing strengths and weaknesses of the neighborhood and to provide recommendations to the city council on improving the health of residents through community-based planning.
This is part of a Health Impact Project HIA program grant. As part of its HIA Program, MDH has established a state-level interagency working group and a coalition of local agency and nonprofit partners to support HIA training and technical assistance, and will develop state-level policies to help make HIA a routine part of decision-making in the region.
The Minnesota Department of Health is also conducting an HIA to inform the Lincoln Park Small Area Plan. It previously conducted four HIAs: 6th Avenue East Duluth HIA, Divine Mercy development HIA, Douglas County comprehensive plan HIA, and the St. Louis Park comprehensive plan HIA.
Outcome
The final HIA report, which was adopted by the Duluth City Council on June 23, provides practical recommendations on improving the health of residents through community-based planning.