Caño Martin Peña HIA
Location

San Juan

,

Puerto Rico

Organization(s)

Icahn School of Medicine at Mount Sinai - Pediatric Environmental Health Specialty Unit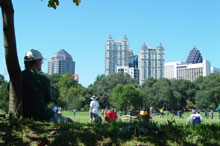 The Icahn School of Medicine at Mount Sinai's Pediatric Environmental Health Specialty Unit in New York City conducted an HIA to inform Puerto Rican policy makers on their decision to fund a comprehensive development plan for improving sanitation infrastructure, as well as dredging and removing heavily polluted sludge from a two-mile stretch of the Caño Martin Peña, an estuarine tidal channel located next to San Juan's main financial district. The area is home to 25,000 impoverished residents and migrants from rural Puerto Rico and the Dominican Republic; they face overcrowding, unsafe housing, unsanitary living conditions, and exposure to significant environmental health hazards such as frequent flooding, untreated wastewater, and fecal content 60 times greater than the Environmental Protection Agency's water-quality standard. Mount Sinai conducted the HIA in partnership with the Corporación del Proyecto ENLACE del Caño Martín Peña, a redevelopment authority, and the community-based organization Grupo de las Ocho Comunidades Aledañas al Caño Martín Peña, G-8, Inc. Support was also provided by key stakeholders, including the EPA, local health agencies, and community organizations. The assessment's purpose is to ensure that public health information and community health concerns are considered in the decision-making process.
The HIA includes examinations of the issues of physical health, mental health, and social welfare associated with the proposed project, such as the health benefits of installing sewage lines and preventing repeated flooding incidents. Particular attention was given to unsanitary conditions and potential health risks, perceptions of displacement, abandonment, environmental stressors, and decreased social support, all of which can harm the community's health and well-being.
This is the first HIA to be conducted in Puerto Rico.
More Information
Organization Web Site:

Contact Email:

See also: