Bottineau Transitway HIA
Location

Minneapolis

,

Minnesota

Organization(s)

Hennepin County's Department of Housing, Community Works and Transit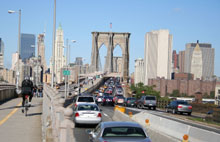 Hennepin County's Department of Housing, Community Works and Transit (HCWT) conducted an HIA to inform planning decisions on the proposed Bottineau Transitway. The transitway proposal would create a new bus or light rail line extending from downtown Minneapolis through North Minneapolis and into neighboring suburbs. The HIA was coordinated with the Draft Environmental Impact Statement (DEIS) that will serve as a key mechanism for the County in making decisions on the transitway. The DEIS will also serve as the basis for the Federal Transit Administration's decision on whether to fund the project.

North Minneapolis has high rates of health problems such as obesity, asthma, diabetes, and disability. The proposed transit system has the potential to benefit the health of residents along the corridor by, for example, improving air quality through relieving traffic congestion, creating opportunities for exercise, improving access to grocery stores, employment, and health services, and spurring reinvestment in housing and retail services. At the same time, increased pedestrian traffic near transit stops can lead to traffic injuries, and rising housing prices can displace low-income families.
Supported by funding from the Blue Cross and Blue Shield of Minnesota Foundation.
Outcome
Hennepin County's Department of Housing, Community Works and Transit has been funded to conduct health and health equity related community engagement around station area planning for the first four proposed stations. Hennepin is working with Nexus Community Partners to reach underrepresented communities. Consulting firms that submit station area plans are required to work with Hennepin and Nexus to ensure broad community outreach and stakeholder engagement.
More Information
HIA Website:

Organization Web Site:

Contact Email:

See also: