6th Avenue East Duluth HIA
Location

Duluth

,

Minnesota

Organization(s)

St. Louis County Public Health & Human Services; Arrowhead Regional Development Commission; Public Solutions Inc.; Minnesota Department of Health; NorthpointGIS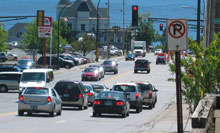 The redesign study of Sixth Avenue East in 2010 arose out of community concerns about the safety of the roadway and its perceived negative effects on the neighborhood.
Sixth Avenue East is a former state highway. Currently, it is a main arterial. The roadway divides a neighborhood and inhibits all forms of non-motorized transportation.
The Health Impact Assessment team conducted a HIA on the redesign study, current conditions in the Hillside for non-motorized transportation and its potential health impacts on the Hillside. The HIA Final Report includes both recommendations for the roadway and for changes in the neighborhood outside of the 66 foot right-of-way in the redesign study.
The HIA recommendations addressed accessibility and safety (add bus stops, traffic signal, high-visibility crosswalks, a median, official bike route); physical activity (encourage mixed use development, a sidewalk assessment, enhancements to neighborhood parks); livability (creating one neighborhood from two). The recommendations serve as a guide for roadway reconstruction and the creation of a healthier, more livable neighborhood.
More Information
Organization Web Site:

Contact Email:

See also: