Report
South Dakota's 2013 Criminal Justice Initiative
Legislation to Improve Public Safety, Hold Offenders More Accountable, and Reduce Corrections Spending
quick summary
In 2013, facing continued growth of its prison system, South Dakota enacted comprehensive sentencing and corrections reform that will save taxpayers hundreds of millions of dollars over the next ten years while improving public safety. Senate Bill 70, which passed with overwhelming bipartisan support, refocuses prison space on violent and career criminals, improves the parole and probation system and victim services, and reduces recidivism with particular emphasis on substance-abusing offenders.
---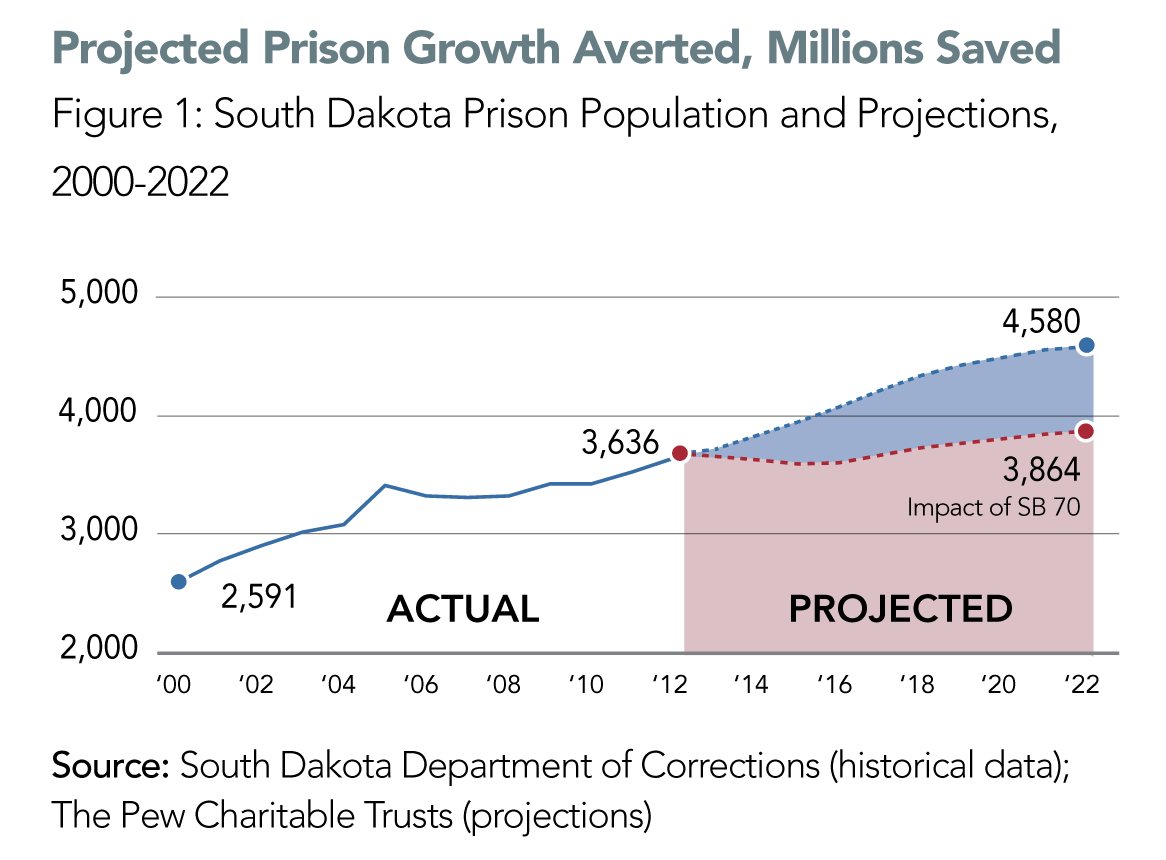 Problem: In 1977, South Dakota had 546 prison inmates; in 2013, it has more than 3,600, and the prison population was projected to grow 25 percent through 2022. This would have necessitated two new prisons and increased operating expenses at a total cost of $224 million. Between 2001 and 2011, South Dakota's imprisonment rate was rising faster than the national average, and its crime rate was falling much more slowly. During the same period, spending on corrections outpaced increases in all other major areas except Medicaid.

Findings: The work group's comprehensive review of South Dakota's criminal justice data, programs, practices, and policies found that nonviolent offenders made up 81 percent of prison admissions and 61 percent of the inmate population. In addition, parole violators occupied 1 in 4 prison beds, and more than 4 in 10 inmates were returning to prison within three years of release.

Reforms: The work group developed policy recommendations to strengthen supervision and interventions, focus prison space on violent and career criminals, and ensure the quality and sustainability of reforms. Legislation advancing the recommendations—SB 70, the Public Safety Improvement Act—passed with overwhelming bipartisan support and was signed into law by Governor Dennis Daugaard on Feb. 6, 2013

Impact: SB 70 is projected to reduce anticipated prison growth in South Dakota by 716 beds, avert the construction of two prisons, and save state taxpayers $207 million in construction and operating costs through 2022. Legislation also redirects $8 million from the current budget to programs and policies proven to reduce recidivism and improve offender accountability. An ongoing investment in these programs of $4.9 million annually is expected.