Report
2012 Georgia Public Safety Reform
Legislation to Reduce Recidivism and Cut Corrections Costs
quick summary
In May 2012, Georgia's General Assembly ;unanimously passed legislation, House Bill 1176, enacting a comprehensive package of sentencing and corrections reforms that will save taxpayers hundreds of millions of dollars over the next five years while improving public safety.
---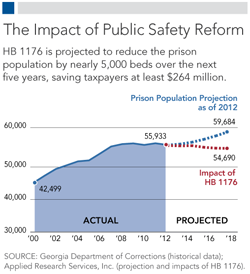 Highlights
Problem: Since 1990, Georgia's prison population more than doubled to nearly 56,000 inmates. Today, the state spends more than $1 billion annually on corrections. Despite this growth, the proportion of inmates who were reconvicted of a felony within three years of release remained at nearly 30 percent during the past decade. If current policies had remained, the population was projected to grow 8 percent over five years at a cost of $264 million.
Findings: An extensive review of data by the Special Council on Criminal Justice Reform for Georgians (Council) revealed that drug and property offenders accounted for almost 60 percent of prison admissions. Judges had few viable sentencing options other than prison, and probation and parole agencies lacked the authority and resources to effectively supervise offenders in the community.
Reforms: With technical assistance from the Pew Center on the States and its partners, the Council issued recommendations to improve public safety by focusing prison space on serious offenders, strengthening probation and alternative sentencing options, relieving local jail overcrowding, and improving performance measurement. HB 1176, based on the Council's proposals, passed both chambers of the General Assembly unanimously and was signed by Governor Nathan Deal in May 2012.
Impact: HB 1176 is projected to avert all the anticipated growth in prison population and costs over the next five years, saving at least $264 million. Through accompanying budget initiatives, the state redirected more than $17 million of the savings into efforts to reduce reoffending. Governor Deal signed an Executive Order to continue the Council to monitor and expand on the reforms.