Fact Sheet
Protecting Alaska's Bristol Bay
Offshore Drilling Threatens World-Class Fisheries
Bristol Bay and the North Aleutian Basin, located in the eastern Bering Sea off southwest Alaska, is an extraordinarily productive marine ecosystem distinguished by its bountiful fisheries and exceptional ecological diversity. Rich, remote, wild, and incredibly productive, Alaska's Bristol Bay and southeast Bering Sea are America's seafood stronghold. The region's waters provide habitat for some of the largest runs of wild salmon on Earth and supply on average more than 40 percent of the total U.S. fish catch, including halibut, red king crab, Pacific cod, Tanner crab, flatfish, pollock, and sablefish. These renewable and sustainable fisheries are an economic engine for communities throughout Alaska, the Pacific Northwest, and the nation.
Like the "bread basket"; of the Midwest, this "fish basket" provides a healthy, abundant source of seafood for the nation and the world. These marine resources also support centuries-old Alaska Native subsistence traditions as well as local communities, fishermen, fishing families, and businesses across Alaska and the Pacific Northwest, who depend upon the continued health of the region's world-class fisheries and ecosystem.
Yet this very region is at risk from oil and gas development. Offshore drilling was first proposed in Bristol Bay more than 25 years ago. A series of decisions to protect the bay, then to open it to leasing again, reinforce the need for a permanent solution to protect this national treasure from the threat of offshore drilling.
Where is Bristol Bay?
Bristol Bay is part of the Alaska Outer Continental Shelf (OCS) and falls within a 52,000-acre OCS planning area called the North Aleutian Basin, located in the triangle of waters north of the Aleutian Islands.
What's at Stake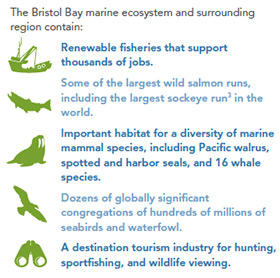 Economic Scales Tip in Favor of Fishing
The federal government's Bureau of Ocean Energy Management has estimated the net economic value of Bristol Bay's oil and gas resources to be $7.7 billion over the entire 25-to-40-year lifespan of an oil field. By contrast, the well-managed, sustainable fisheries in Bristol Bay and the southeast Bering Sea are valued at more than $2 billion annually, or $50 billion to $80 billion over that same 25-to-40-year period.6 Commercial fishing and associated processing have been the major industries in the region for decades. The wild salmon runs also provide an essential subsistence economy for Alaska Natives and support a multimillion-dollar sportfishing industry.
Offshore oil development could devastate Bristol Bay's internationally important fisheries. Such development would occur in the heart of important fishing grounds and habitat for halibut, herring, crab, pollock, cod, flatfish, and salmon (migratory routes and juvenile feeding grounds).
Salmon begin their lives in rivers and streams, but they spend many years at sea, including several in the shallow productive waters of Bristol Bay. Areas targeted for offshore oil and gas development overlap with areas used by young salmon for feeding and for migration from and to spawning grounds.
Careful management has enabled Bristol Bay to sustain healthy fish stocks, supplying wild-caught seafood to the world and ensuring thousands of sustainable jobs, indefinitely.
In Bristol Bay, the economic benefits of renewable fisheries resources far outweigh the short-term economic value of offshore oil and gas development.
Risks from Offshore Oil and Gas
Inevitable risks are associated with offshore oil and gas exploration and development, including catastrophic oil spills. With climate change already placing stress on marine ecosystems, we cannot afford to further jeopardize the jobs, food, and cultural heritage of Bristol Bay. Some of the most critical risks include:
Oil spills
Federal studies have predicted at least one major and numerous smaller spills if development occurs. Such spills could:
Harm multiple year classes, or age-groups, of crab, salmon, and other fish as well as their prey, with potential population-level effects.
Degrade or contaminate nursery habitat for halibut in the area with potential effects on the North Pacific population.
Lead to the closure of multiple fisheries in the area.
Harm marketing and branding and decrease value for seafood products over the long-term.
Contaminate sheltered, intertidal habitats along much of the coastline for 30 years or longer.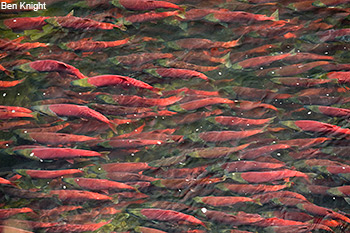 Seismic surveys for oil and gas exploration
Offshore seismic surveys employ explosive blasts of air, creating extreme underwater noise to locate oil and gas. Studies have shown that such surveys:
Can significantly reduce catch rates for fish (more than 70 percent, in some cases) for several days.
Can kill fish eggs, larvae, and adult fish close to the air gun source.
May alter and/or delay salmon migration.
May cause a variety of sublethal impacts to fish and crabs such as damage to hearing and reproductive organs, potentially resulting in reduced survival or reproductive success.
Water Pollution
Offshore oil and gas operations in Bristol Bay would release thousands of tons of contaminated drilling muds and cuttings into the ocean. Such discharges:
Can kill (by smothering or toxic exposure) or cause sublethal effects to fish eggs, fry, and small prey in the mixing zone.
Can contain a variety of contaminants, including heavy metals such as mercury, that bioaccumulate.
Can physically smother clams, scallops, and other sedentary invertebrates on the seafloor.
May physically and chemically alter bottom habitats, making them less suitable for commercially important bottom-dwelling species.
A Permanent, Alaska-Based Solution
In 2010, the Obama administration announced the cancellation of planned Bristol Bay leases and executive protection for the surrounding federal waters until 2017. But history shows that the push to drill will continue unless a permanent solution is put in place. A broad coalition opposes offshore drilling in Bristol Bay. More than 66 Alaska Native and commercial fishing organizations and thousands of fishermen have voiced their opposition to oil and gas development in the region. Fishing interests and local communities applauded the March 2010 decision to temporarily remove Bristol Bay from Alaska OCS lease programs. Now it's time for permanent protection so drilling proposals won't ever again threaten jobs, livelihoods, and a way of life.
A Community Coalition
Since 2009, the Pew Charitable Trusts has worked with tribes, Alaska Native corporations and organizations, and the Fish Basket Coalition, a diverse group of Native subsistence, commercial fishing, conservation, and local community interests dedicated to a healthy and sustainable future for Bristol Bay and the Bering Sea, free from offshore oil and gas development. Along with the Bristol Bay Native Association, the Bristol Bay Native Corporation, Nunamta Aulukestai, and the Fish Basket Coalition, we recommend that Bristol Bay and its valuable, renewable resources be permanently protected from the risks of oil and gas development. The best way to achieve permanent protection is through an Alaska-based solution involving stakeholders and communities in the affected area.