Collection
Supermoms Against Superbugs 2013 Advocacy Day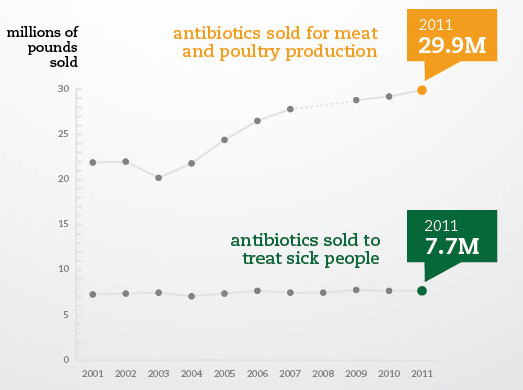 In 2011, drugmakers sold nearly 30 million pounds of antibiotics in the United States just for chickens, pigs, cows and other food animals. Using these drugs to produce our meat and poultry is breeding dangerous, antibiotic-resistant superbugs that can infect people.
On Tuesday, April 16, more than 50 moms, dads, and other caregivers participated in the second annual Supermoms Against Superbugs Advocacy Day. These doctors, chefs, farmers, and survivors of drug-resistant infections called on President Barack Obama, the U.S. Food and Drug Administration, and Congress to shine a light on industrial farms' antibiotic use and to put an end to the practices that threaten our health.
Please join thousands of supermoms and superdads across the country to bolster our advocacy day by taking action online.
See highlights of Advocacy Day when more than 50 moms, dads, chefs, farmers, and pediatricians went to Capitol Hill to call on Congress to protect the public from superbugs by eliminating the overuse of antibiotics in food animal production.

We have an amazing roster of more than fifty moms, dads, and other caregivers ready to take Washington by storm. Hailing from 25 states, each supermom and superdad has a unique story to tell about why we need to stop overusing antibiotics on industrial farms, including moms who almost lost children to antibiotic-resistant infections and pediatricians who fight superbugs every day.

Call on President Obama to Take a Stand against Superbugs

On April 16, the supermoms and superdads hand delivered a petition to the Obama administration asking for swift action to rein in the overuse of antibiotics on industrial farms. Please sign the petition to show President Obama that Americans support strong policies to protect the public from antibiotic-resistant superbugs.

Couldn't make it to Washington for Supermoms Against Superbugs? Don't worry — there are still many ways you can get involved! We need your help to get out the word on this important issue and to make sure Congress and the Obama administration hear our message loud and clear.

Learn about the successful 2012 Supermoms Against Superbugs Advocacy Day, where 25 concerned parents spoke out on the need to stop misusing antibiotics on industrial farms to ensure that they work when we need them most.