Civil Rights Groups Sue HUD Over Segregation Rule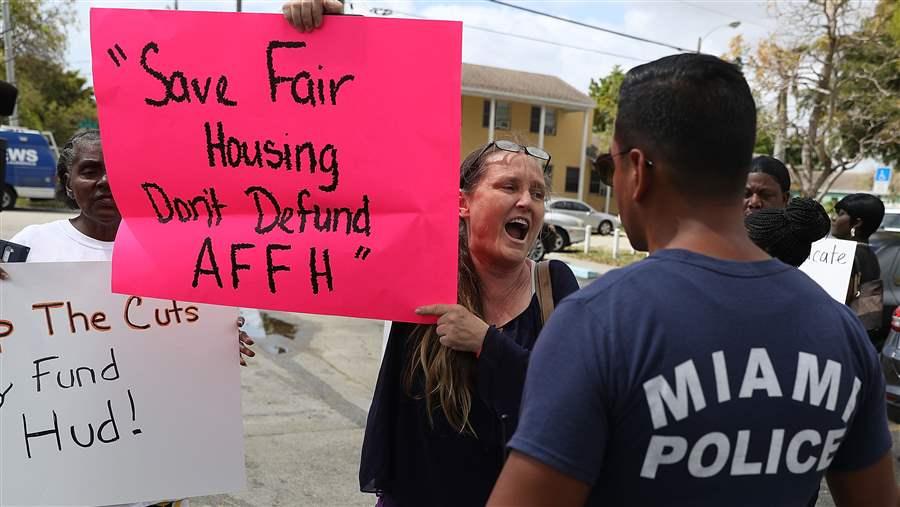 Protesters demonstrate in Miami as U.S. Housing and Urban Development Secretary Ben Carson visits an apartment complex there. The agency announced in January that it was suspending an Obama administration rule requiring cities to create detailed plans for desegregating.
Joe Raedle/Getty Images
A coalition of civil rights groups is suing the U.S. Department of Housing and Urban Development over the Trump administration's suspension of an Obama-era rule that forced cities to aggressively address racial segregation in their communities.
The National Fair Housing Alliance, Texas Appleseed and Texas Low Income Housing Information Center asked a federal court to order HUD to reinstate the 2015 requirement. HUD Secretary Ben Carson suspended the rule in January because, he said, "we were petitioned by dozens of cities and municipalities to in fact delay because it cost between $100,000 and $800,000 to follow the regulations."
The complaint charges that by suspending the requirement, HUD is failing to adhere to the Fair Housing Act of 1968, which requires that communities "affirmatively further fair housing."
Segregation remains deeply entrenched in the United States. Some of the nation's most diverse cities are also among the most segregated.
The Obama administration's 2015 rule gave communities a blueprint for addressing racial segregation — and threatened to pull federal funding if they didn't comply.
"Before the rule, some cities and states, especially in Texas, ignored part of Fair Housing Act," said Christina Rosales, communications director of the Texas Low Income Housing Information Center, also known as the Texas Housers, an Austin-based housing rights group that is one of the plaintiffs.
"For almost 50 years, HUD looked the other way," Rosales said. With the suspension of the rule, she said, "cities and states will continue breaking the law, and HUD will continue to condone that."