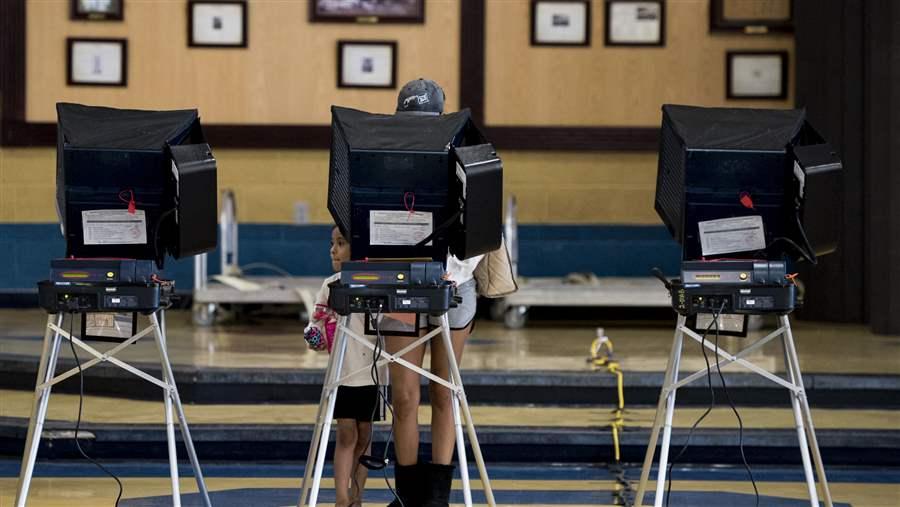 © Bill Clark/CQ Roll Call
October 3, 2017
After the "hanging chad" fiasco during the 2000 presidential recount, many states and counties switched to electronic-only voting machines to modernize their systems. Now, amid security concerns over Russian hackers targeting state voting systems in last year's election, there's a renewed focus on shifting to paper ballots.
February 1, 2018
Barriers are not unusual for the more than 35 million voting-age Americans with disabilities. As many jurisdictions return to paper ballots to address cybersecurity concerns — nearly half of Americans now vote on paper ballots, counted digitally or by optical scanners — such obstacles are likely to get worse.
February 15, 2018
Minority communities have not benefited as much as white communities have from innovations to shorten lines.
March 15, 2018
In a decentralized election system with more than 10,000 separate jurisdictions, the onus for security is on local officials.
March 21, 2018
Adults with mental disabilities often lose their right to vote for ambiguous and inconsistent reasons.
March 29, 2018
In 41 states, some counties and cities use election equipment that is more than a decade old. Older machines are more likely to malfunction or break down on Election Day, and are susceptible to wireless malware attacks.