On West Coast, Public Strongly Favors Switch in Swordfish Gear
Comments urge council to approve method that spares whales, dolphins, and other species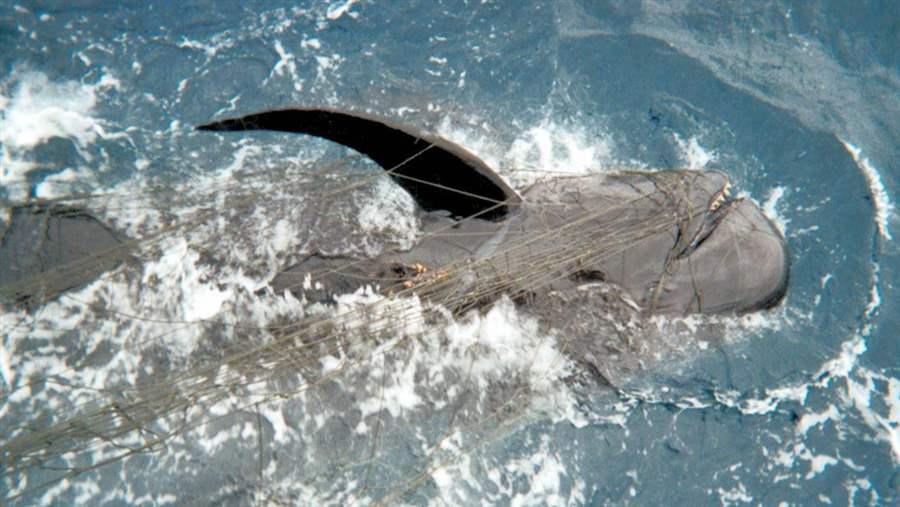 A pilot whale is tangled in a drift gillnet intended to catch swordfish off the California coast.
NOAA Fisheries
The message from an overwhelming number of citizens, including sport fishermen, sustainable-seafood suppliers, chefs, and elected officials, is clear: The West Coast swordfish fleet should switch to gear that spares marine wildlife from the injury and death inflicted by large-mesh drift gillnets.
More than 18,000 individuals have written to the Pacific Fishery Management Council (PFMC) in the past few weeks to voice their support for transitioning the fleet from the indiscriminate nets to deep-set buoy gear. They join the tens of thousands of people from across the political spectrum who have called on federal fishery managers to make this change over the past four years. Moreover, 87 percent of California voters say fishermen should use less destructive fishing methods, according to a poll commissioned by The Pew Charitable Trusts.
These citizen advocates know that fewer than 20 drift gillnet boats injure and kill more dolphins and porpoises than all of the other West Coast fisheries combined. And more than 60 percent of the drift gillnet catch is discarded because it's not marketable. They recognize that drift gillnets are outdated and have no place in a responsible swordfish management plan.
There is no accountability in the swordfish fleet. Last summer, the National Oceanic and Atmospheric Administration's Fisheries Service dropped plans to limit the number of whales, dolphins, and other threatened and endangered species that can be caught; exceeding that limit would have triggered a two-year closure of the drift gillnet fishery. In addition, most drift gillnet boats don't carry observers who can verify how many sensitive marine species are casualties of the outdated fishing method.
These business owners, bird-watchers, and boaters know that deep-set buoy gear is an economically viable alternative that enables fishermen to catch valuable swordfish while significantly decreasing harm to sea turtles, porpoises, and whales. The citizens who have submitted comments know this. The only remaining question for federal fishery managers who must authorize buoy gear: What are you waiting for?
Paul Shively directs ocean conservation work in the Pacific for The Pew Charitable Trusts.