Bill to Expand Arkansas Wilderness Would Benefit Hunters, Hikers, and More
Flatside area offers access to nature and recreation near Little Rock
Arkansas has earned its nickname as "the Natural State." It's home to America's first national river, the free-flowing Buffalo, which carries paddlers beneath imposing bluffs and over churning rapids. The oxbow lakes and flooded bayous of the Mississippi Delta lure sportsmen from near and far, many of whom hunt from the same duck blinds their grandparents used. And even along the developed and populated Fayetteville-to-Bentonville corridor, the 36-mile Razorback Greenway gives trail users a taste of the state's outdoor allure.
Although Arkansas is the only state in the U.S. that still produces diamonds, its real crown jewels are its wilderness areas.
In the late 1970s and early 1980s, Arkansas's congressional delegation created 12 distinct wilderness areas in the state's two national forests and along the Buffalo National River, which is managed by the National Park Service. Nine of those areas, spanning acreage across the Ozark and Ouachita mountains, were included in the Arkansas Wilderness Act of 1984, which honored years of work by local advocates to protect these special places. The act was introduced by Senator Dale Bumpers (D-AR) and co-sponsored by David Pryor (D-AR) and John Tower (R-TX).
Among the areas protected under that landmark legislation are Dry Creek Wilderness, with its free-standing Chimney Rock and dense black bear population; Hurricane Creek Wilderness, which features a natural rock bridge and tumbling streams; and Flatside Wilderness, less than 30 miles from Little Rock, which affords stunning views amid forests of hardwoods and pines and is the starting point of the Ouachita National Recreation Trail.
The Flatside may soon be expanded under a bill introduced April 26 in Congress by Representative French Hill (R-AR). The measure could add roughly 2,000 acres to the area's northern and western sides, enhancing opportunities for hiking, hunting, fishing, camping, horseback riding, and more.
The Flatside has particular value because of its proximity to the urban areas of Little Rock and Hot Springs, offering city dwellers easy access to large tracts of dense, untouched forest and cool, clear waters. Hill's legislation comes at no cost to taxpayers, as all of the land is already part of the Ouachita National Forest and would not require additional federal land-management resources. Still, the wilderness designation would ensure the gold standard of protection for the additional area.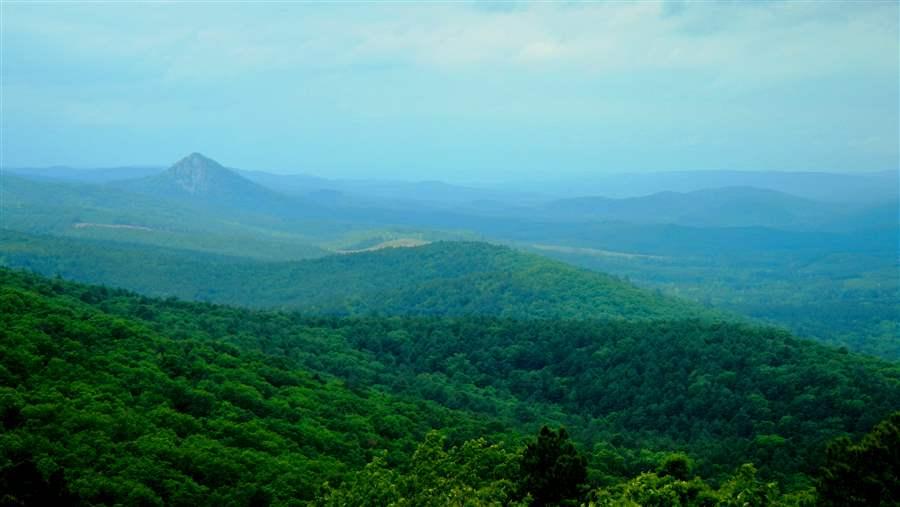 A view of Forked Mountain, whose western slopes would be protected by Representative Hill's wilderness bill.
Kirk Wasson
The Flatside Wilderness region is one of the most unspoiled landscapes in the state and is home to wild turkey, black bear, and other species. Expanding protections would boost Arkansas's recreation economy and safeguard this spectacular place for future generations of Americans to enjoy. There is no land use designation more fitting than wilderness for Arkansas's most remote landscapes.
John Gilroy directs The Pew Charitable Trusts' U.S. public lands program.