How Pew Marine Fellows Are Helping Protect Our Oceans
Their research informs policy, promotes conservation, and engages communities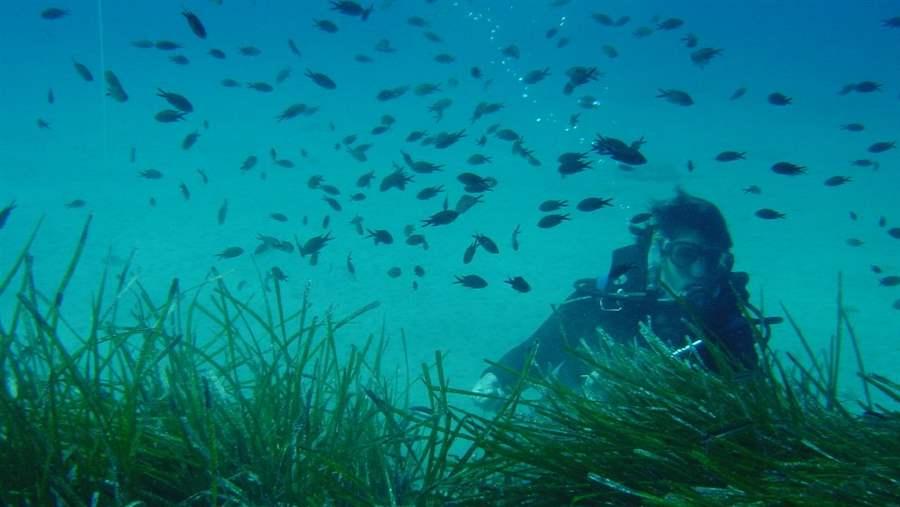 Ester A. Serrão, Ph.D., Pew marine fellow, collects kelp and other large brown algae, which form unique habitats known as marine forests. She is trying to identify hot spots of genetic diversity in populations across the world and protect these vital natural resources.
© Courtesy of Ester A. Serrão
Note: This post has been updated with specifics about Pew fellow Scott Baker's whale research.
Providing the scientific basis for marine protected areas, pioneering new approaches in conservation, and working with communities to ensure sustainable fisheries are just some of the ways that scientists are using fellowships awarded under the Pew Fellows Program in Marine Conservation. From local to global conservation projects, these researchers take innovative approaches to protecting the marine environment. In early 2018, Pew will announce the next class of Pew marine fellows.
Below are examples of the work that fellows are leading.
Protecting ocean areas
Meity Mongdong, who received a fellowship in 2013, is seeking to gain a better understanding of the largely unwritten laws governing marine resource use in the West Papua province of Indonesia. She developed an analysis of the legal basis for traditional law of indigenous peoples (also known as adats) on that issue.
Her project helped to create a formal legal channel for the traditional communities of the Raja Ampat Archipelago to protect their marine and terrestrial natural resources. In addition, three new adat-based marine protected areas (MPAs) were proposed in the past year.
Pew fellow Louisa Ponnampalam's project in Malaysia is helping that government to better manage dugongs, which are closely related to manatees, and their habitats. Ponnampalam, a 2014 fellow, conducted aerial and bioacoustic surveys, assessed habitat contamination, and engaged in many rounds of consultations with stakeholders—work that ultimately is expected to lead to the establishment of a Johor dugong sanctuary, the first of its kind in Malaysia.
Ensuring sustainable fisheries and marine life management
Other Pew fellows have developed new approaches to conservation with potentially broad applications. Stefan Gelcich's 2014 project goal was to test a new approach for increasing biodiversity conservation within certain areas in Chile. He did this by working with fisherman-organized programs called "TURFs," for territorial use rights for fishing, which allocate fishing rights for one or more species. The project has provided a scalable way to motivate locals to fish sustainably and help scientists seeking to assess biodiversity. Gelcich's approach could be useful in other places.
With her 2013 fellowship, Gillian Braulik developed a rapid assessment method for marine mammals and applied it in Tanzania in less than a year. This work established an accessible, quick survey method for managers to use in other ocean areas, three-quarters of which have never been evaluated for populations of whales and dolphins. She also used acoustic monitoring to track destructive blast fishing in Tanzania—one of the first uses of this method to identify the location and intensity of this illegal fishing method. Braulik's work is helping authorities to advance marine protection enforcement efforts..
In the research that helped earn him a Pew fellowship this year, Leandro Castello of Virginia Tech helped four fishing communities in the Brazilian Amazon develop a method for fishermen to accurately count arapaima, a high-value fish. This has helped locals manage arapaima fishing more sustainably, and the method is now being used by 400 other communities in the region. With his fellowship, Castello will use this knowledge and experience to help improve management in several Brazilian coastal fisheries.
Developing new conservation technologies
Marine scientists are increasingly leveraging technology in their work. Scott Baker, a professor at Oregon State University and a 2011 fellow, uses genetic techniques to monitor whales. For example, he recently began analyzing samples collected with a "SnotBot"—a drone that hovers above a surfacing whale to collect DNA when the cetacean breathes from its blowhole. These data shed light on the sex and ancestry of individual whales and, when combined with other information, the overall health of the population. And Randall Arauz, a 2016 fellow, is using drones and telemetry, a tracking technology, to understand larger-scale shark movements in the Pacific Ocean near Central America.
These examples are only a snapshot of how Pew marine fellows are working around the world to protect our marine environment. In a world of ever-increasing threats to ocean health, Pew will continue to support innovative and dedicated scientists and other experts.
Polita Glynn directs the Pew Fellows Program in Marine Conservation for The Pew Charitable Trusts.