Congress Should Reject Bill to Relax Management of Wilderness Areas
Proposal would reverse ban on mountain bikes and other mechanical transport
Editor's note: This article was updated on Dec. 8 to correct the photography credit to Kurt Kuznicki.
The concept of wilderness predates even the Wilderness Act, the 1964 bedrock law that codified the protection and management of "untrammeled" spots on the map. As early as 1897, Benton MacKaye, who proposed the Appalachian Trail, wrote in his diary of leaving behind "bicycles and civilization" for the "true wilderness" of New Hampshire's White Mountains. Bob Marshall, who co-founded The Wilderness Society and whose memory is honored with a wilderness area in Montana, once wrote that wilderness was "a region which … possesses no possibility of conveyance by any mechanical means."
These conservation leaders understood that wilderness should be the protected centerpiece of our public lands, rather than a recreational designation. Their foresight influenced the Wilderness Act, which created the process that allows local advocates to work with lawmakers to set aside places for solitude—areas that have become even more critical in our increasingly mechanized and technology-saturated society.
Local advocates' efforts over the past 53 years have resulted in the protection of more than 100 million acres of public land in 765 wilderness areas spread across 44 states and Puerto Rico. Even though that acreage amounts to just 5 percent of the entire landmass of the United States, some members of Congress are seeking to relax the management of wilderness areas and allow mechanized vehicles into them.
On Dec. 7, the Federal Lands Subcommittee of the House Committee on Natural Resources held a hearing on H.R. 1349, introduced by Rep. Tom McClintock (R-CA). The bill would remove the Wilderness Act's prohibition on "mechanical transport" and permit "motorized wheelchairs, non-motorized wheelchairs, non-motorized bicycles, strollers, wheelbarrows, survey wheels, measuring wheels, or game carts" within wilderness areas. That would permanently weaken the rules governing the management of every wilderness area in the country and forever change the character of the designation, rolling back 53 years' worth of legislation that was carefully crafted by local stakeholders to protect wild places from, as the Wilderness Act foresaw, "expanding settlement and growing mechanization."
I like to mountain bike, but wilderness areas are not an appropriate place for that activity. America's conservationist visionaries set aside these lands for a very specific type of recreational use: "solitude or a primitive and unconfined type of recreation." That definition does not include promoting mechanical transport. Those of us who enjoy mountain biking have plenty of other protected public lands where we can ride without disturbing the hunters, anglers, hikers, rafters, and others who come to the wilderness seeking the quiet it promises.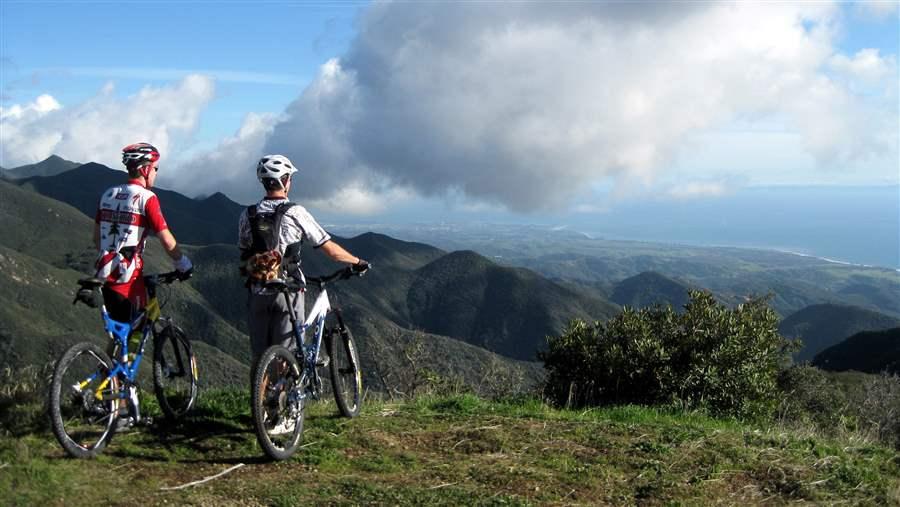 To accommodate mountain bikers, stakeholders and legislators should work locally instead of revising the Wilderness Act, one of America's signature conservation laws.
© Laurel Williams
I've met hundreds of sportsmen and women and have yet to hear one tell me that he or she wanted game carts or other mechanized transport in wilderness. Further, research shows that increased mechanized use can have negative direct behavioral impacts on a range of game species.
Finally, wheelchair users do not need new legislation for permission to enter wilderness areas. Section 507 of the Americans with Disabilities Act already expressly permits the use of both motorized and nonmotorized wheelchairs within wilderness areas.
While H.R. 1349 so far has very little support, I feel compelled to speak out against it because of how important wilderness is to me, and to hundreds of communities around the country. In March of last year, 115 outdoor groups signed a letter opposing passage of a similar bill, which later died in committee. Senator Martin Heinrich (D-NM) has spoken out passionately against these kinds of proposals, pledging to do his best to stop any such efforts in the Senate. Even the International Mountain Bicycling Association does not support changes to the Wilderness Act.
The Pew Charitable Trusts has worked hard to bring recreational enthusiasts—including sportsmen and cyclists—together with local wilderness advocates and stewards to craft land protection proposals that honor multiple uses of our public lands without undermining the bedrock laws governing those places. For example, when the Columbine-Hondo Wilderness Coalition sought to protect additional areas of New Mexico's Carson National Forest as wilderness, stakeholders agreed to remove wilderness designation from a small area to accommodate mountain biking.
Pew believes that this type of collaborative approach to land use, rather than legislative proposals that pit members of communities against each other, is the best way to protect the special landscapes we all care about.
John Gilroy directs The Pew Charitable Trusts' U.S. public lands program
.