Quebec Moves to Expand Protections in Boreal Forest
Proposal to safeguard Caribous-Forestiers-de-Manouane-Manicouagan would help province meet ambitious conservation goal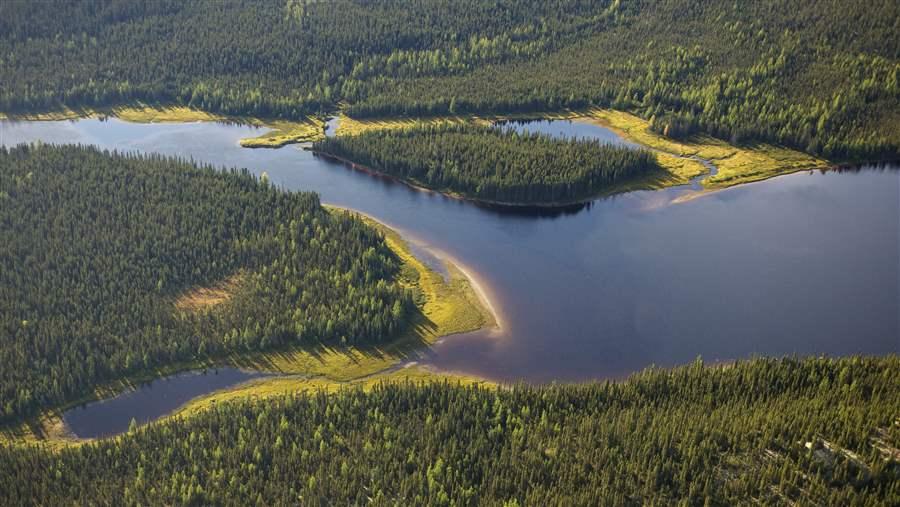 The Manouane-Manicouagan area of northeastern Quebec as seen from the air.
© Markus Mauthe/Greenpeace
Ringed by wild rivers and dense stands of fir and black spruce, the Manouane-Manicouagan region of Quebec has sustained herds of woodland caribou for millennia. Now the Quebec government has taken steps to ensure caribou can flourish there for generations to come, through a proposed complex of protected areas called Caribous-Forestiers-de-Manouane-Manicouagan that would include 2.5 million acres of intact forest.
Indigenous peoples have traversed these mountains for thousands of years and long appreciated this region and its role in sustaining caribou. Those communities continue to serve as stewards of this landscape, and intend to do so for as long as they're here. The Innu Council of Pessamit intends to play a central role in managing the protected area.
The new conservation measure would add approximately 1.7 million acres to the protected areas in the region and preserve habitat for caribou and many other species. It would also move Quebec closer to achieving the goals laid out in Plan Nord, the provincial government's internationally recognized commitment to protect 50 percent of its boreal forest—an area the size of France.
This announcement is a welcome addition to Quebec's boreal conservation initiative. Located in the northeastern part of the province, the Manouane-Manicouagan region is marked by a unique profusion of biodiversity. Towering fir trees grow in concentrations rarely seen this far north. Bunchberry and other boreal plants blanket the region during the summer, a testament to its fertile soil. And rugged mountains capture clouds that generate more moisture than other areas, keeping this untouched forest green and vibrant.
It is no surprise then that this habitat—among the richest remaining for woodland caribou in Quebec—is home to one of the province's healthiest populations of the species, which is classified as threatened across Canada. This new protected area would give Quebec's woodland caribou a welcome refuge.
For Plan Nord to succeed, Indigenous nations and the Quebec government must work together. Plan Nord, announced in 2008 by then-Quebec Premier Jean Charest, is a world-leading conservation commitment and a sound vision for managing the northern two-thirds of the province. It calls for protecting half of Quebec's northern lands, applying strict sustainable development standards to the other half, and respecting existing rights and treaties with the region's Indigenous governments. In 2014, Quebec Premier Philippe Couillard pledged to advance Plan Nord and work toward the interim target of preserving 20 percent of the boreal region by 2020 and positioning the province to meet the 50-percent protection goal by 2035.
This ambitious approach places Quebec at the forefront of international conservation. The boreal is the largest primary forest left on the planet, even bigger than the Amazon. The boreal contains 25 percent of the world's wetlands, over 1.5 million lakes, and more surface freshwater than anywhere else on Earth. It also serves as a giant shield helping to protect the planet from the effects of climate change: Canada's boreal stores about 12 percent of the globe's land-based carbon reserves—the equivalent of more than 34 years of all greenhouse gas emissions from fossil fuels.
The Pew Charitable Trusts applauds the Quebec government's commitment to conserving its share of this globally significant ecosystem. The proposed Caribous-Forestiers-de-Manouane-Manicouagan protected area is an important step in fulfilling Plan Nord. Additional gains still would be necessary to meet the 2035 goal, but if the province continues to execute the plan wisely—observing scientific principles and partnering with Indigenous governments—Quebec could create a lasting legacy for Canada and the world. The province can also provide a mechanism for reaching international biodiversity commitments such as the Aichi targets, which call for Canada and other nations to protect at least 17 percent of their lands by 2020.
As federal, provincial, territorial, and Indigenous governments work toward such international obligations, Quebec offers a model for balancing strict environmental protections and sustainable economic prosperity. Pew celebrates the progress made in the Manouane-Manicouagan region and pledges to help Quebec realize its bold vision.
Steve Ganey directs the lands and ocean programs and oversees Arctic marine projects at The Pew Charitable Trusts.
Collection

See one of the last great forest regions on Earth—and meet the people who call it home.