BLM Should Retain Regional Councils to Meet Its Mission
Key mechanism for open, transparent land management is essential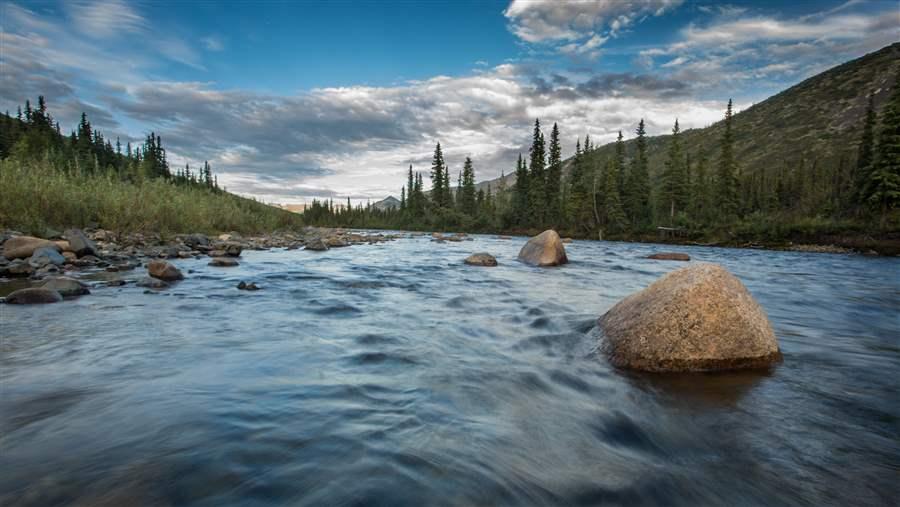 The Jim River, more than 200 miles north of Fairbanks, Alaska, runs through the Bureau of Land Management's Central Yukon Planning Area.
© David Shaw/Wild Imagination Photography
During Interior Secretary Ryan Zinke's confirmation hearing in January, he testified that if he got the job, he would be "a listening advocate rather than a deaf adversary." He also said he wanted to ensure that the agency's rangers and field managers "have the right tools, right resources, and flexibility to make the right decisions that give a voice to the people they serve."
Unfortunately, in a direct contradiction to those statements, Secretary Zinke suspended an important tool last month that has been part of public land management since 1995 and that would have helped him accomplish his stated goals.
The suspension of the Bureau of Land Management's resource advisory councils (RACs)—the 38 volunteer groups charged with advising the agency on land management issues—means that the largest land manager in our country will no longer have these organized, formal bodies to provide real-time, local citizen input and advice.
RACs provide citizen input to public land management
Across the West and Alaska, RACs are composed of community members—usually 10 to 15 ranchers, representatives from large and small businesses, local elected officials, members of tribes, and conservationists, each of whom brings an important on-the-ground perspective to decisions on how to use the nation's public lands.
RACs help ensure that BLM decisions serve the interests of nearby communities along with those of the country as a whole. Accordingly, these councils have become a forum for dialogue by people with widely divergent viewpoints. The committees have worked as an effective tool to achieve solutions to challenging problems and as a bridge for opposing points of view.
I know this firsthand because I voluntarily serve on the RAC in Alaska, a state in which BLM manages more than 72 million acres of public land. Over the past two years, our RAC has worked closely with agency leaders to develop a statewide instructional memorandum—a directive that supplements broader BLM policy to set standards for reclamation of uplands disturbed by placer mining—a method of using water to extract heavy minerals from alluvial deposits. This work was no small feat. The RAC created a subcommittee representing a huge range of points of view—from the Alaska Mining Association to environmental groups and the state government—which advised BLM on mining and provided advice on successive versions of the memorandum.
Suspension of RACs stops recommendations from local communities
The Alaska RAC also invited the placer mining community to send recommendations to BLM for adjusting the new instructional memorandum after the first field season with the new uplands restoration policy. The committee was also scheduled to meet in Cold Foot to develop input for BLM's management of the Dalton Highway/Trans-Alaska Pipeline Corridor. These are just a few examples of the type of vitally important input that BLM will miss with the suspension of the RACs.
In the interest of increasing transparency and public involvement in public land management, Secretary Zinke should restore the RACs.
Reinstating these advisory councils will help him fulfill the goals he laid out in his Senate testimony and provide the transparency and citizen input that are critical to public land management.
Suzanne Little is an officer in The Pew Charitable Trusts' U.S. public lands program based in Anchorage, Alaska.