Agreement Holds Promise for Greenland Halibut Fishery in Disko Bay
Industry, fishermen, scientists, and government will work toward greater sustainability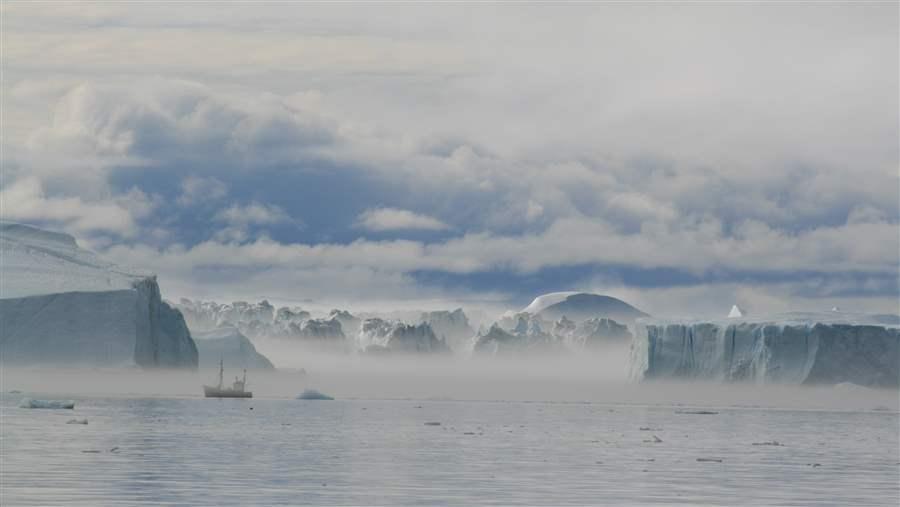 Fishing boat in Disko Bay, Greenland. The new agreement is "an important starting point" for developing a responsible fishery.
© Chris Debicki/Oceans North Canada
Stakeholders in the Greenland halibut fishery agreed in early April to work together to protect threatened inshore fish stocks in Disko Bay, on the country's southwestern coast. At a meeting in Ilulissat, fishermen and other representatives of the seafood industry, scientists, and government officials signed a memorandum of understanding that outlines plans for ensuring a sustainable fishery for communities on the country's west coast.
"This is an important starting point for future discussions about developing a responsible fishery," said Chris Debicki, Nunavut director for The Pew Charitable Trusts' Oceans North Canada project, who attended the meeting. "Local communities rely on Greenland halibut as an essential economic driver and natural resource."
Scientific stock assessments show that the population of Greenland halibut has declined in the past 10 to 15 years and that the average fish is 10 centimeters (4 inches) shorter than it was a decade ago. Additional surveys are needed to examine issues such as the species' total biomass—the cumulative weight of the halibut in a given area—and the possible impact of predators like whales and seals on fish stocks.
Delegates at the meeting cited other pressures on Greenland halibut, including the use of unregulated gear—especially smaller mesh nets that also capture immature fish fish—and damage to stocks caused by lost or abandoned nets. Establishing a central registry for lost gear could help fishery managers better monitor the scale of that problem, the delegates agreed.
They also concluded that the fishing industry should work with local communities and scientists to sustainably manage the Greenland halibut stocks, including using scientific advice to develop future quota allocations. The species' range stretches from the island's southern waters to the northern fjords of Baffin Bay.
"Official data shows that current catch sizes are not sustainable," Debicki said. "This historic agreement sets the stage for a more sustainable fishery."
The meeting brought together diverse interests, including representatives from one of Greenland's biggest industrial fishing companies, a regional seafood processor, and fishing unions, along with representatives from the Greenland Institute of Natural Resources and the Greenland Department of Fisheries. Delegates agreed to meet again, but no date has been set.
Steve Ganey is a senior director for land and ocean programs at The Pew Charitable Trusts.