Analysis
Fundamental Research Can Bring Unexpected Discoveries in Fight Against Cancer
Members of first class of Pew-Stewart scholars say program supported them in taking creative approaches to their work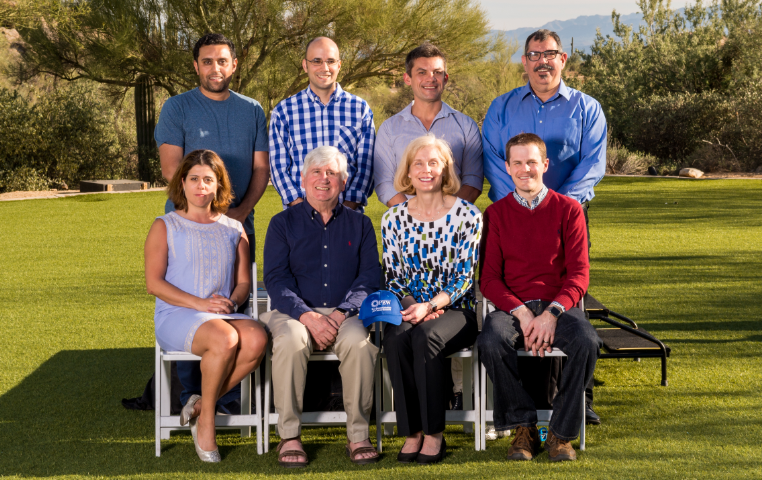 Members of the first class of Pew-Stewart scholars to graduate, along with advisory committee members: (front row, from left) Agnel Sfeir, Peter Howley and Jennifer Pietenpol, both advisors, and Andrew Holland; (back row, from left) Arvin Dar, Shawn Douglas, Roberto Zoncu, and advisor Nickolas Papadopoulos.
Media Compass Photography
National Cancer Research Month is observed each May to recognize the contributions of researchers, physician-scientists, survivors, and patient advocates who dedicate themselves to finding a cure for cancer. Four years ago, Pew and the Alexander and Margaret Stewart Trust, launched the Pew-Stewart Scholars for Cancer Research program to fund early-career cancer investigators doing basic, exploratory research.
In March, the first class of Pew-Stewart scholars completed the program, a significant milestone, but their impact on cancer research and the Pew scientific community at large will continue.
The scholars recently highlighted the critical importance of basic research—and the need to take risks—to ensure continued progress in the fight against cancer, a disease that is constantly evolving.
Andrew Holland, Ph.D., an associate professor of molecular biology and genetics at Johns Hopkins University, spoke of the common perception that "we already understand a lot about cancer and the mechanisms that allow cells to proliferate, and we need to start translating that knowledge into cures. But, if we start closing the door to fundamental discovery, we might miss out on the next generation of treatments and therapies."
Arvin Dar, Ph.D., an assistant professor of oncological sciences at the Icahn School of Medicine at Mount Sinai, pointed out that historically, "very basic research has opened avenues and areas that no one could have anticipated."
Agnel Sfeir, Ph.D., an associate professor of cell biology at New York University's Skirball Institute, added that the "principles governing cancer growth can only be identified when studying at the most basic, molecular level."
Such a deep understanding is essential. "Cancer is a very complex disease, and in order to understand and fix an intricate system gone awry, you must understand the complete structure at every level of detail necessary," said Shawn M. Douglas, Ph.D., an assistant professor of cellular and molecular pharmacology at the University of California, San Francisco.
Roberto Zoncu, Ph.D., noted that "cancer adapts and develops the ability to disable even the most sophisticated tools, so combining different forms of therapies can be very useful and can possibly reduce the likelihood that cancer cells will be able to escape the various therapeutic attacks." Zoncu is an assistant professor of molecular and cell biology at the University of California, Berkeley.
Sfeir said the Pew-Stewart program allowed her to take risks in her work that would have been impossible otherwise. Her initial proposal offered creative new approaches, while many other research grant programs tend to fund projects that explore more predictable work. The program encouraged her to tackle fundamental questions that were complex, she said, rather than more straightforward.
Holland said he valued the diverse scientific backgrounds and interests of the current participants in the Pew scholars, Pew-Stewart scholars, and Pew Latin American fellows programs, who were brought together, along with advisors for all three, at the annual meeting held each spring.
"We're not just sitting in a room full of cancer researchers,'' he said. "There are people in the room that do a broad range of research, which gives you a completely different perspective and allows you to draw on knowledge and expertise from different fields."
Holland considers his time in the program as "one of the greatest privileges of [my] scientific career, specifically the experiences at the annual meetings."
Dar said the annual meetings helped expose him to areas of science that were new to him but have direct applications to his work. He said he has been inspired by "scientists who are fearless in their approach to scientific problems."
He also saw the program's early career support for his work as a stamp of approval. Although some might consider his approach risky because of less predictable outcomes, Dar said that "there's a potentially high reward" and that the program backing "makes the research less uncertain to other funders moving forward."
Douglas said the meetings allowed him to get practical advice on how to manage each stage of building a lab, from hiring researchers and formulating initial projects to publishing findings and handing work off to new trainees.
Zoncu said that during his time as a Pew-Stewart scholar he was "exposed to not only top-notch cancer research through my classmates, but also those outside my field." That widened scope allowed him to "refine my thinking and sharpen my approach to cancer biology." And he said being surrounded by like-minded risk-takers encouraged him to follow his "wildest intuitions rather than staying on safe ground."
All five researchers emphasized the importance of early-career support to help with the many logistical, financial, and administrative challenges in launching an independent lab. The program gives financial support, while also providing a community of peers and advisors to help guide them through the difficult professional issues they may confront.
Creativity in science, as exemplified by the research tackled by Pew-Stewart program participants, will continue to reap rewards and gratifying scientific discoveries. The 2018 scholars will be announced in June.
Kara Coleman directs The Pew Charitable Trusts' biomedical programs, including the biomedical scholars, Pew-Stewart Scholars for Cancer Research, and Latin American fellows programs.
Latest From the Biomedical Scholars Program