Caribou Country
The Selkirk Mountains are home to the last remaining herds of America's woodland caribou. Once stretching across New England, New York, and the Great Lakes region and west along the states that border Canada, caribou exist today only in a small corner of northern Idaho and northeastern Washington. These remote wild areas are also home to grizzly bears, lynx, and wolverines.
Although the woodland caribou of the Selkirk Mountains have been safeguarded under the Endangered Species Act since 1984, much of their habitat has been left unprotected, and their numbers have dwindled. Woodland caribou need old, intact forests to thrive. They eat some plants and grasses but primarily subsist on lichens that grow on trees. Only forests that are at least 100 years old can produce enough lichen for the caribou, so protecting the Selkirk's ancient forests is critical for the animal's survival. Until Congress preserves the remaining pristine mountains and valleys of the Selkirks, the region will be in danger of development.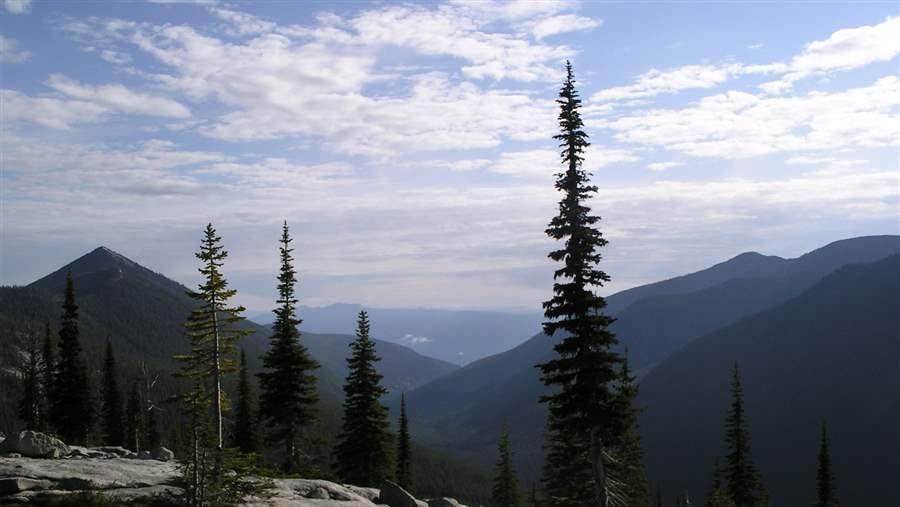 © Jonathan Oppenheimer
The Selkirk Roadless Area
The 90,000-acre Selkirk roadless area, which includes the Selkirk Crest, Long Canyon, and the Parker Creek drainage, makes up the largest wild stretch—free of roads and other human development—of any mountain range in the United States. The U.S. Forest Service has released a plan that recommends wilderness protection for about 36,000 acres but leaves out the Crest to allow snowmobiling, which, as a mechanized activity, is at odds with wilderness management.
Long Canyon, an 18-mile-long glacial valley, is just one of dozens of areas that the Forest Service has identified as worthy of wilderness designation, the gold standard of land protection. The canyon is one of the rainiest places in Idaho and is populated by ferns, cedar, hemlock, and other species more commonly associated with western Oregon and Washington. Visitors who hike the canyon's 38-mile loop trail can experience the high mountain lakes and alpine settings of Parker Ridge.
Congress has an opportunity to protect these places and the natural values, wildness, and solitude that they offer. The clean water, giant cedars, bears, and caribou of the Selkirk Mountains are worthy of recognition and protection.
With action by committed citizen advocates and courageous political leaders, the wild places of the Selkirk Mountains and all they represent can be protected for future generations to enjoy, just as we do today.
Information and assistance for the preparation of this article came from Idaho Conservation League, the U.S. Forest Service, and the Bureau of Land Management.