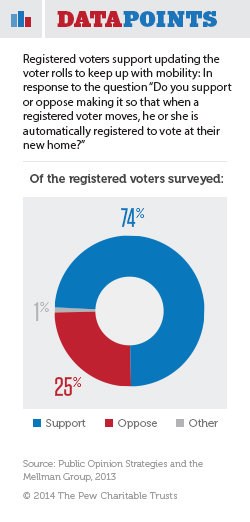 According to a recent Pew Charitable Trusts poll of registered voters, 44 percent of respondents either registered or updated their registrations in the past two years.
The poll also found broad support for reforms that would improve voter registration systems in states:
65 percent of respondents support allowing people to register online. Fifteen states allow online registration, and five are developing systems.
74 percent support allowing automatic registration updating when a registered voter moves.
76 percent of self-identified Republicans and 64 percent of Democrats agreed with arguments in favor of data-sharing programs, such as the Electronic Registration Information Center, or ERIC

,

that use state records to update voter rolls, even though they were presented with opposing arguments.
Public Opinion Strategies and the Mellman Group, on behalf of Pew, conducted phone interviews with 1,001 registered voters from Sept. 18 to 26, 2013. The survey has a margin of error of plus or minus 3.1 percent.
Top line results from the surveys are available by request. Please contact Sean Greene at sgreene@pewtrusts.org.
Follow us on Twitter using #electiondata and get the latest data dispatches, research, and news by subscribing today.