Analysis
The Bottom Line: An Inconvenient Truth About Gulf of Maine Cod
Jud Crawford, science and policy manager of the Pew Environment Group's Northeast Fisheries Program, is my guest author today. He is going to provide some important perspectives about the recent scientific assessment of Gulf of Maine cod.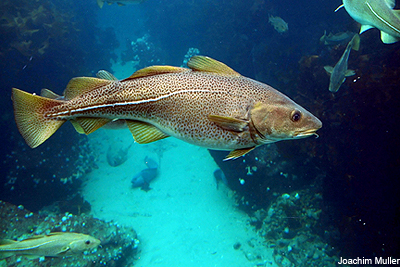 Many in New England were recently stunned by the news that the region's prized codfish are in much deeper trouble than anyone had realized. The bleak conclusion of the most recent scientific assessment was unexpected, because just three years earlier cod appeared to show signs of recovery. Fishermen, scientists, and others have rightfully been asking, "What happened?"
The stock assessment meetings, which typically span almost a year, are open to the public, so I was able to observe the 2008 and the 2011 peer review meetings for cod. The periodic evaluation of fish stocks in New England is rigorous, comprehensive, and transparent, and it includes independent scientific experts from around the world. Gulf of Maine cod was no exception.
The Northeast Fisheries Science Center and the assessments that take place there have been the subject of many reviews, including one ordered by Congress and carried out by the National Academy of Sciences. These evaluations never revealed major deficiencies in the science and produced recommendations that have made the science even stronger, including a first-rate system of independent peer review. Teams of qualified scientists examined data, developed models, and analyzed results of the 2008 and 2011 assessments.
When we start with a desired answer and begin to work backward, we abandon science altogether.

- Jud Crawford, Science and Policy Manager, Northeast Fisheries Program

\
The 2011 assessment was especially thorough, with every imaginable angle known to the scientists at the time considered, models run and rerun, within the constraints of the available information. With the benefit of hindsight, however, it now appears that the 2008 assessment, which was based on then-current data, produced an overly optimistic forecast. Additional data, and improvements in the analyses, show that cod were actually in much poorer condition four years ago than was believed, and the situation has not gotten better.
In terms of science, nothing went wrong in 2011. What went right was the development of stronger models based on better statistics. The new assessment draws from more extensive data, including new information on mortality due to recreational fishing and small cod discarded at sea (which usually die). Additionally, it is now clear that the cohort of young fish from 2005, and which caused much of the optimism in 2008, was not as big as previously thought. As a result, this updated information (data through 2010) led to an improved, though smaller, estimate of the overall stock size, or biomass.
This is the way science is supposed to work: It is incremental, with each conclusion based on the best possible understanding from the available data and analytical methods. Preconceptions about what the answers should be are held at bay, and peer review and public observation enhance objectivity.
Unfortunately, some people are pushing for delayed management action and are calling for a new stock assessment because the latest one produced an unwanted and unexpected result. But when we start with a desired answer and begin to work backward, we abandon science altogether.
No stock assessment is perfect, and no scientist I know would say otherwise. Determining the condition of populations of wild fish in the sea is challenging. It is routine at the end of each scientific analysis for the researchers involved to identify areas where additional work or data collection could be better next time. There are indeed ways to continue the progression of good science for cod so that the next assessment will be even better than the last.
For now, we must use the best available science to make responsible management decisions if we want to recover the cod stock for long-term benefits to New England and the nation. We need to focus on ways to sustain valued fishing communities under current biological realities. The political pressures now aimed at the scientific process must be redirected. Resources are needed for those who will be most seriously affected by fewer cod as well as for deploying new ways to fish that target healthier stocks, while minimizing cod catches. Meddling with the science is not the answer.