Arctic Conservation Science Team
The team that works with Pew's Arctic project includes six scientists with expertise in marine conservation-related issues who contribute original research and advise our Arctic campaigns in the United States, Canada, and internationally.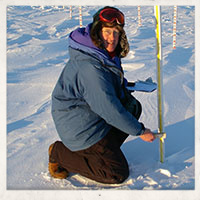 Henry P. Huntington is science director for Pew's Arctic projects. He earned his bachelor's degree in English at Princeton University and his master's and doctoral degrees in polar studies at the University of Cambridge. Huntington's research activities include reviewing the regulation of subsistence hunting in northern Alaska, documenting traditional ecological knowledge of beluga and bowhead whales, examining Iñupiat Eskimo and Inuit knowledge and use of sea ice, and assessing the impacts of climate change on Arctic communities and marine mammals. Huntington has also worked with a number of international research programs, such as the Arctic Monitoring and Assessment Program, the Program for the Conservation of Arctic Flora and Fauna, and the Arctic Climate Impact Assessment. In 2013, he was appointed co-chair of a National Academy of Sciences committee charged with reporting on emerging research questions in the Arctic. Huntington has also been appointed to the Council of Canadian Academies' Expert Panel on Arctic food security. He has written many academic and popular articles, as well as three books. Huntington has made long trips in the Arctic by dog team, open boat, and snowmobile. He lives with his wife and two sons in Eagle River, Alaska. | Publications
Raychelle Aluaq Daniel is a senior associate with Pew's work in the U.S. Arctic and has more than 10 years of experience as a marine ecologist. She was born in a tiny village near the mouth of the Kuskokwim River where it flows into the Bering Sea in Alaska. This influenced her interest in studying marine mammal ecology, ecological monitoring, and conservation science. She advises the campaign on how to ensure that the best measures are in place to protect both local communities' subsistence way of life and a healthy, functioning ecosystem. She has worked on marine mammal research projects in the Beaufort Sea and the Gulf of Alaska and studied tropical ecosystems in the Pacific Ocean. Most recently she was a conservation scientist with the advocacy group Ocean Conservancy. She obtained a bachelor's of science degree at the University of Alaska in Juneau and a master's degree in science at the University of British Columbia Fisheries Centre. She lives in Anchorage, Alaska.
Kristin Westdal is a marine biologist/consultant with Oceans North Canada. She specializes in the ecology and distribution of Arctic marine mammals. Before joining Oceans North, she worked extensively in the eastern Arctic researching narwhal, beluga, and killer whales with Fisheries and Oceans Canada. She also ran a kayaking operation on the Hudson Bay coast that investigated beluga whale behaviors and natural history. She has a master's of environmental science degree from the University of Manitoba and lives in Winnipeg, where she is working on Oceans North's Lancaster Sound and Baffin Bay campaigns. She was a member of the Arctic Whale Expedition: Lancaster 2011 research team that collected data on the Greenland coast. | Publications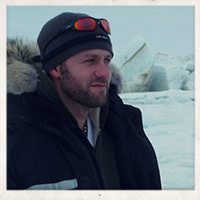 Louie Porta is a policy director/consultant for Oceans North Canada. He has a master's degree in resource and environmental management from Dalhousie University. He conducts interdisciplinary research in community-based resource management and co-management, community consultation practices in settled land claim areas, Arctic marine mammal and fisheries science/management, environmental assessment, and oil and gas rights issuance. He led the Western Arctic Beluga Monitoring Program from 2008 to 2010, helped develop and implement a marine mammal observer program for the western Arctic, and contributed to creation of the Tarium Niryutait Marine Protected Area. Porta's research supports Oceans North Canada's western Arctic fisheries, oil and gas, and international campaigns. He is based in Ottawa, Ontario. | Publications
Olga Romanenko is a policy adviser focusing on Russia for the Arctic Ocean - International project fisheries campaign. She is a biologist and conservation consultant who has worked for more than 15 years with nongovernmental organizations and government agencies on U.S.-Russian conservation initiatives in the Arctic and North Pacific. She studied zoological geography at Moscow State University, did field research in boreal forests of Siberia, and worked in Russian protected area management. She coordinated the feasibility study for the International Beringia Heritage Park, led the Important Bird Areas of the Bering Sea project for Audubon Alaska, facilitated U.S.-Russian partnerships between protected areas and helped launch the Strengthening the Marine and Coastal Protected Areas of Russia project for the U.N. Development Programme. She also is an English and Russian interpreter and translator focusing on natural science and environmental conservation. She lives in Anchorage, Alaska.
Jeremy Davies is the marine spatial analysis manager for Pew's work in the Arctic. He is an ecologist and geographic information system (GIS) specialist. He previously worked for the National Oceanic and Atmospheric Administration (NOAA) in Seattle. For the past 18 years, his work has focused on studying species-habitat relationships and applying geospatial analyses to marine and coastal science. His past research projects include modeling the distribution of bowhead and beluga whales in the Beaufort Sea, analysis of whale distributions in the North Pacific, mapping benthic changes in the Bering Sea related to commercial fishing practices, delineating salmon habitats and populations in the Pacific Northwest, conducting biological risk analyses, developing predictive models for marine habitats and derelict fishing gear deposition, and developing GIS-based assessment tools for marine and coastal management. For Pew's Arctic projects, he analyzes and maps relationships between human uses and the climate, physical oceanography, and biota of the Arctic. He lives in Bellingham, Washington.