The Pew Charitable Trusts' podcast brings you the story behind the data and nonpartisan analysis on the issues that matter to you.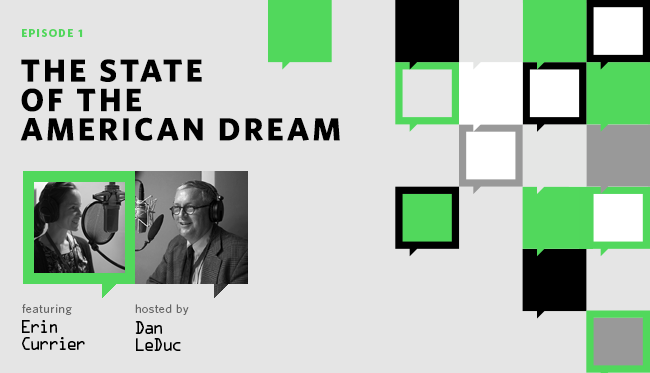 In this episode
In this inaugural episode, host Dan LeDuc interviews Erin Currier, director of Pew's financial security and mobility project, on the state of the American Dream and the financial well-being of American families. The conversation focuses on "data point 92"—the percentage of American families that are seeking financial security rather than economic mobility. In other words, given the choice, most families are happy to make ends meet and pay their bills rather than to move up the economic ladder. Currier reflects on the financial hardships families are facing today and what that says about the American Dream.
Related Pew research
Americans' Financial Security: Perception and reality
The Precarious State of Family Balance Sheets
Household Expenditures and Income
Latest Episodes
View All
America's National Park System spans more than 400 sites and received more than 331 million visits in 2016. Supported by a complex infrastructure—including roads, sewer systems, buildings, restrooms, and trails—the park system is beginning its second century in need of rejuvenation. Read More

Pew Research Center, a nonpartisan research organization and a subsidiary of The Pew Charitable Trusts, is surveying public views about science-related issues and public trust in scientists. One scientific finding sometimes in the news involves childhood immunization. Here, the center found that the vast majority of Americans—88 percent—believe that the benefits of vaccines for children outweigh... Read More

States are finding new ways to get smart on crime and, in the process, changing how America views crime and punishment. After decades of rising prison populations, reforms in 33 states have helped cut the national incarceration rate by 13 percent since 2007. That data point drives this episode's conversation about the new approaches, informed by research-based sentencing and corrections policies,... Read More
Subscribe to 'After the Fact'
Stay in touch
We want to hear from you. Reach us with your suggestions and thoughts at podcasts@pewtrusts.org or @pewtrusts on Twitter. You can also rate our show or post a brief review on iTunes, Google Play, and anywhere else you listen or subscribe to the podcast.