Governments Rally at United Nations to Protect Sharks Ahead of Global Wildlife Trade Meeting (CITES)
The United States, Germany and Honduras lead charge to regulate international shark trade as populations reach critically low levels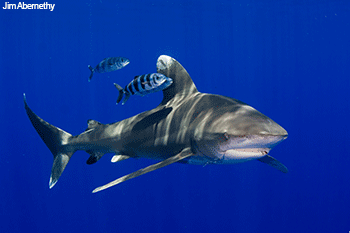 Five iconic species of sharks and all manta rays may be protected through international trade regulation at the March meeting in Bangkok of the Convention on International Trade in Endangered Species (CITES).

Today, representatives from 14 governments met in advance to discuss these proposals at a lunch hosted by the U.S, Germany and Honduras and supported by the Pew Environment Group.

At the event, the U.S government publically endorsed all the shark and manta ray proposals following its action last October when it joined Brazil and Colombia in proposing CITES protections for the oceanic whitetip shark. Whitetips have experienced significant population declines due to a global demand for their large, highly valued fins.

One population study in the Gulf of Mexico estimated a drop of 99 percent in just four generations. In the northwest Atlantic, an analysis showed declines of up to 70 percent since 1992 and a similar analysis in the Pacific estimated a 90 percent decline in biomass.
"If we are to have a chance of keeping sharks and rays in the ocean, countries need to pull together and cast a vote for their survival."

-Susan Lieberman, director, international policy
"We applaud the U.S. government for its CITES leadership, and its stance to protect sharks on the international stage as this is about more than an individual species. When shark populations decline, unpredictable consequences in the ocean environment may result. If we are to have a chance of keeping sharks and rays in the ocean, countries need to pull together and cast a vote for their survival at the meeting this March," said Susan Lieberman, who directs international policy at the Pew Environment Group.

Tens of millions of sharks are killed every year to satisfy the shark fin and meat trade, despite this being unsustainable and driving many species towards a near total collapse.

"CITES trade regulation is a last life-line for these species. Three species of hammerheads – the porbeagle, the oceanic whitetip and manta rays – have all suffered such large population declines. If we don't impose limits in what we can take from the sea, they may be traded to extinction," said Elizabeth Wilson, who works on shark conservation at the Pew Environment Group.

The CITES 16th meeting of the Conference of the Parties will be held March 3–14, 2013, in Bangkok, Thailand. CITES is widely recognized as one of the most effective and best-enforced international conservation agreements. It offers protection to more than 30,000 species around the globe and has been instrumental in preventing the extinction of numerous plants and animals.
Learn more about CITES: