EU Commission Takes Strong Stance on Atlantic Bluefin Recovery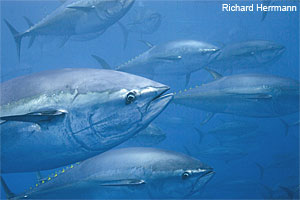 The upcoming annual meeting of the International Commission for the Conservation of Atlantic Tunas (ICCAT) will be a critical time for Atlantic bluefin tuna. Quotas for both the western and eastern stocks will be set at the meeting for the next two to three years, based on the updated stock assessments and associated scientific recommendations.
There are positive signs concerning the recovery of the eastern stock. However, ICCAT's scientific committee highlighted the uncertainties associated with the stock assessment and stressed that a period of stabilisation is needed. Therefore, the scientific committee has recommended that quotas for the eastern Atlantic and Mediterranean Sea be maintained at 12,900 metric tons (mt) or, at most, the 2010 quota of 13,500 mt. It is critical that ICCAT Parties follow this scientific advice when setting quotas this year, in order to allow the stock to continue to increase.

In the coming weeks, the EU Commission and Member States will develop a coordinated position for the ICCAT meeting. Recognising the responsibility of the EU toward the conservation and sustainable management of bluefin tuna, the European Commission has stressed the importance of following the scientific advice.

The European Commission's support for science-based quotas demonstrates strong political leadership and will help to drive real recovery for bluefin. Pew calls upon Member States to support this approach as they finalize the EU position, allowing the EU to advocate in favour of a continued recovery of bluefin tuna in the Atlantic Ocean.