New Stock Assessments and Management Advice for Atlantic Bluefin Tuna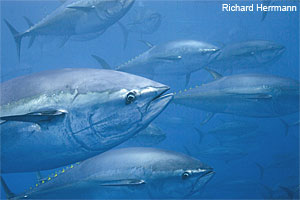 ICCAT scientists have just finalized recommendations for managing one of the world's most valuable, depleted and sought-after fish, Atlantic bluefin tuna. At this year's November meeting for the International Commission for the Conservation of Atlantic Tunas (ICCAT), member governments will set bluefin fishing quotas for the next two to three years based on this scientific advice.

This year's stock assessments suggest an increase in both the eastern and western Atlantic bluefin populations - but with a barely discernible increase for one population and major scientific uncertainties, scientists are urging that quotas must be held in place to allow the populations to grow.

Find out more about the precarious, fascinating and unpredictable story of an ocean giant.