IUCN World Conservation Congress 2012
Nature + is the slogan for this year's IUCN World Conservation Congress, sometimes described as the world's biggest "trade show" for conservation and development. This year it will be held Sept. 6-15 in Jeju, South Korea.
This large global conservation event, bringing together some 4,000 delegates from governments and conservation organizations, aims to improve how we manage our interactions with the natural environment.
Pew is attending the conference to highlight a number of conservation issues and ensure that some of the biggest marine and terrestrial conservation challenges facing the world today are adequately addressed.
Global Tuna Conservation
Few people realize the tuna industry is a multibillion-dollar powerhouse of enormous scope and global influence. Without adequate regulation and conservation measures in place, many tuna stocks are approaching—or have already reached—the limits of sustainable fishing.
Since the last IUCN World Conservation Congress in 2008, a species assessment on the IUCN Red List of Threatened Species has been completed for tuna. Five of the eight species are endangered, threatened or near-threatened on the IUCN Red List.
In addition to sponsoring a motion on tuna conservation and management, Pew will host a workshop from 1430-1630 Sept. 8 titled, "Beyond the tuna trap: Coastal States and the possibility for a new future for tuna."
Pew will also host a media briefing on tuna from 12-1230 Sept. 8. Amanda Nickson, director of the Global Tuna Conservation campaign, will be presenting at the workshop and the media briefing.
High Hopes for the High Seas
There were high expectations at the recent Rio+20 meeting for the high seas, the portion of the ocean that lies beyond any national jurisdiction and which covers nearly 50 percent of the planet's surface (and makes up some 64 percent of the world's ocean). However, due to intense pressure from a small group of countries, governments deferred making a decision for the next 2½ years on how to conserve and protect marine life in the high seas.
Pew will be at IUCN to press governments and NGOs to redouble their efforts toward ensuring that our international waters are sustainably managed and the mass of biodiversity that it holds is properly conserved for future generations. Pew is hosting a workshop and a news conference with the Natural Resources Defense Council and IUCN on Sept. 10 and has also co-sponsored a motion on high seas biodiversity conservation.
Global Ocean Legacy: Protecting special places in the sea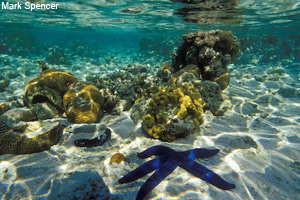 Since 2005, Global Ocean Legacy, a project of the Pew Environment Group and its partners, has been instrumental in securing the protection of just over 1 million square kilometers (386,000 square miles), and the commitment to protect an additional half a million square kilometers (193,000 square miles), of the world's most unique and spectacular seascapes. When this almost 1.5 million square kilometers (579,000 square miles) is fully established later this year, it will comprise more than half the highly protected no-take marine reserves established thus far.
This project aims to establish a small number of very large, highly protected marine reserves where fishing and other extractive activities are prohibited. Pew marine reserve experts Alistair Gammell and Imogen Zethoven will be at IUCN to discuss Global Ocean Legacy's initiatives in places such as Australia's Coral Sea, as well as the economic and ecological benefits of marine reserves.
On the agenda at IUCN is a motion, "Accelerating the global pace of establishing marine protected areas and the certification of their effective management," which Pew has co-sponsored. Pew will be at the meeting to ensure that governments and NGOs acknowledge the role of large-scale no-take marine reserves through this motion. A "meet the press" event will take place Sept. 11.
Global Shark Conservation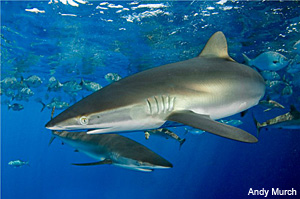 The overfishing of sharks and resulting depletion of shark populations and species around the world risks the health of entire ocean ecosystems. Up to 73 million sharks are killed every year primarily to support the global shark fin industry, which supplies the market for an Asian luxury dish, shark fin soup.
Pew is extremely concerned that 30 percent of assessed shark and ray species around the world are classified by the IUCN Red List as threatened or near-threatened with extinction, and alarmed that approximately two-thirds of the shark species commonly caught in high seas fisheries are classified as vulnerable.
At the Congress, Pew is working with many partners on a motion to urge all shark range and fishing States to prohibit fishing vessels from retaining any sharks listed as critically endangered, endangered, vulnerable or near-threatened on the IUCN Red List, unless a science-based management plan is in place for the species.
Pew would like to see the IUCN Congress adopt a motion urging governments to take strong, meaningful action for shark conservation—whether within their waters or on the high seas—including strong management and enforcement efforts, and international cooperation.
Boreal Forest Conservation
The circumpolar boreal forest, one of Earth's largest and arguably least known ecosystems, plays a crucial role in the health of the planet. Rivaling the Amazon in size and ecological importance, Canada's boreal forest supports the world's most extensive network of pure lakes, rivers and wetlands and captures and stores twice as much carbon as tropical forests. It teems with wildlife—including billions of songbirds that migrate across the Americas.
The Pew Environment Group and the Quebec government will introduce a motion at IUCN recognizing Quebec for adopting the world's most ambitious commitments to sustainable development.
The policy by the government of Quebec commits to protecting an area the size of France from industrial activity and maintain sustainable standards on an area of equal size, in partnership with aboriginal communities.
A "meet the press" event with Pew's Mathew Jacobson will take place Sept. 9. Official consideration of the resolution will take place the following week.