Failed! One Out of Ten for Sustainability as Inter-American Tropical Tuna Commission Concludes
Read our open letter to the National Oceanic and Atmospheric Administration regarding the lack of outcomes at IATTC.
Last week's meeting of the Inter-American Tropical Tuna Commission (IATTC) which manages tuna fisheries across twenty percent of the world's total ocean area in the Eastern Pacific Ocean was a step backwards for conservation, ignored science and failed endangered species, according to the Pew Environment Group.

Pew had asked for ten conservation measures to be put in place. Only one was agreed.

"We give this meeting top marks for unsustainability," said Amanda Nickson of the Pew Environment Group. "Considering the mandate and commercial and ecological importance of this organization, it is deeply concerning it made so little progress on critical issues this year. The only significant decision reached was a conservation measure for Pacific bluefin tuna. This body ignored its own science, allowed powerful countries to block much needed measures to control fishing gear and totally avoided taking any action to protect two vulnerable species of sharks," she added.
Tuna
Pacific bluefin and bigeye tuna are being overfished, and skipjack catch numbers suggest a need for caution. Pew urged the Commission to set precautionary catch limits based on sound and current science for all tuna species fished in the Eastern Pacific Ocean. Pew is concerned that fleet capacity in this convention area continues to increase, despite the setting of a cap in 2005 and recommends that IATTC implements catch limits for tropical tunas through the adoption of target and limit reference points.
Failed to recommend the establishment of target and limit reference points for skipjack, yellowfin, bigeye, and bluefin tuna, or to extend the annual closure of the purse seine fishery to prevent overfishing of juvenile bigeye tuna, despite clear scientific advice that was needed.
Failed to adopt measures to improve fish aggregating device (FAD) data collection and management. This was blocked by the United States. despite a strong proposal from the EU and Colombia that would have greatly advanced FAD regulation and management.
Failed to agree to conduct an independent performance review as other similar organizations have. The importance of this review has once again been recognized at the recent Rio+20 summit on sustainable development where RFMOs were called on to undertake these reviews. IATTC is the only tuna RFMO not to undertake this review which constitutes a problem.
Agreed to cap Pacific bluefin tuna catch at 1994-2007 levels.
Sharks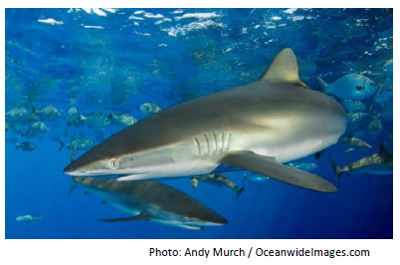 Hammerhead and silky sharks are particularly impacted negatively by fishing in the IATTC convention area. Hammerheads are targeted for their highly valued fins and are also caught incidentally in fishing gear as bycatch. Considered Endangered by IUCN, scalloped hammerhead sharks are being proposed for Appendix II of CITES at the next meeting in March 2013.
Silky sharks are the main shark species caught by purse seines vessels as well as by longlines. Data from the ongoing silky shark assessment due to conclude next year show that their populations in the IATTC region have declined significantly, particularly in the south. Despite proposals by the European Union and Colombia for hammerhead and silky sharks respectively, action was not taken to protect these vulnerable shark species.
Failed to prohibit the retention of hammerhead sharks.
Failed to prohibit the retention of silky sharks.
Failed to ban the use of wire leaders (traces) in the longline fishery.
Failed to prohibit the removal of shark fins at sea.
Pew believes that fighting illegal fishing requires a multi-front approach, with strong laws and enforcement both at sea and in port. One urgent need is adoption of a system of minimum standards for inspection of vessels at port. Also needed is a mandate for unique vessel identifiers (UVIs) for all tuna fishing and support vessels. Each UVI would accompany the vessel throughout its life, similar to a vehicle identification number on an automobile. Without UVIs, it is very easy for pirate fishing operators to change the identity of an illegal vessel and avoid detection by enforcement officials.
Illegal fishing
Failed to strengthen Port State Measures by adopting a port inspection scheme.
Failed to adopt and require unique vessel indentifiers (IMO numbers) for fishing vessels operating in the convention area.
Overall score: 1/10
A disappointing effort from IATTC member countries, which should commit to major improvements for an imperiled fishery.