Policy Statement: Inter-American Tropical Tuna Commission (IATTC)
Recommendations to the 83rd Meeting of the Inter-American Tropical Tuna Commission (IATTC)
Implement Best Practices for Tuna Management
| | | |
| --- | --- | --- |
| Species | 2011 Catch (metric tons) | Status |
| Skipjack | 284,675 | Increasing exploitation and decreasing average size |
| Yellowfin | 203,326 | Could be overfished |
| Bigeye | 82,473 | Overfishing occurring |
| Pacific Bluefin | 7,857 | Overfishing occurring |
Pew remains concerned about the health of tuna populations in the eastern Pacific region based on data from 2011 and the results of recent stock assessments. Bigeye, yellowfin, skipjack, and Pacific bluefin are heavily exploited. In fact, more than half a million metric tons of tuna were taken in the eastern Pacific in 2011.
Recommend the establishment of target and limit reference points for skipjack, yellowfin, bigeye and bluefin tuna
The Antigua Convention, entered into force in 2010, commits Contacting Parties (CPs) to apply the precautionary approach and to minimize the ecosystem impacts of fishing activities. However, neither provision has been fully implemented. According to Article IV of the Convention, "members shall be more cautious when information is uncertain." Although IATTC scientific staff has identified significant uncertainties in the tuna stock assessments, no precautionary limits have been recommended.
Based on the advice provided by the IATTC's scientific staff in document SA C-03-09, CPs should adopt target and limit reference points for skipjack, yellowfin, bigeye, and bluefin tuna in 2013 as a precautionary measure to ensure healthy tuna stocks into the future.
Cap Pacific bluefin catch at 1994-2007 levels
Catch limits have been proposed for Pacific bluefin tuna at the last two IATTC annual meetings. Support for action to limit catches to scientifically recommended levels has been nearly unanimous among CPs, yet the Commission has failed to adopt international management measures for bluefin in the eastern Pacific. Pew calls on CPs to follow the advice of the Scientific Advisory Committee (SAC) and cap the Pacific bluefin catch at 1994-2007 levels, with a view to setting
reference points in the near future.
Adopt measures to improve fish aggregating device (FAD) data collection and management
Fisheries using drifting fish aggregating devices (FADs) have been shown to have significant adverse impacts on juvenile tunas and other species such as billfish, sharks, and turtles. Moreover, research suggests that networks of thousands of FAD s could act as "ecological traps" for open ocean species by altering their natural distribution patterns, habitat associations, migration, and residence periods. Over time, the proliferation of FAD use may cause widespread alterations in the structure and function of these ecosystems.
Given the uncontrolled proliferation of FADs in all oceans, Pew recommends a number of actions that IATTC members should take immediately to improve the management of industrial drifting FAD fisheries:
Share real-time data with the IATTC scientific staff from all satellite and sonar buoys attached to drifting FADs; this will allow more accurate stock assessments, provide information on the extent of FAD use, and inform scientists about potential ecosystem impacts.
Develop and submit FAD management plans with the objective to minimize impacts on nontarget species, limit FAD proliferation, and implement a consistent FAD identification system.
Ban the use of support vessels that assist in drifting FAD fisheries; this includes longliners that deploy FADs.
Agree to conduct an independent performance review of the IATTC
The IATTC is the only tuna regional fishery management organization (RFMO) yet to undergo an independent review as recommended by the Kobe I, II, and III meetings and recent United Nations General Assembly Sustainable Fisheries Resolutions.
To strengthen commitments to sustainable management, the IATTC should agree to an independent performance review followed by a report and recommendations to be submitted for consideration at the 2013 annual meeting.
Adopt Conservation Measures to Protect Sharks
Whether unintended, unwanted, or highly sought after, the catch of sharks in commercial fisheries, and the resulting impact on ocean ecosystems, requires urgent action. Although a stock assessment has not occurred for the majority of shark species, this paucity of data should not preclude precautionary action by the IATTC CPs. Pew believes that shark fishing should not occur in the absence of precautionary, science-based management plans.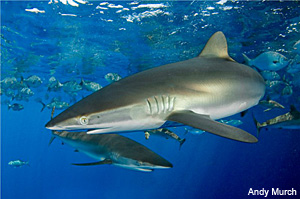 Prohibit the retention of hammerhead sharks
Hammerhead sharks are targeted for their highly valued fins and are also caught as bycatch. They are one of the top shark species caught by the eastern Pacific purse seine and longline fisheries. In addition, juvenile and neonate hammerheads are being targeted in coastal fisheries, particularly in gill nets. Catch data are limited, but populations are shown to be declining. According to the International Union for Conservation of Nature (IUCN) Red List of Threatened Species, scalloped (S. lewini) and great hammerheads (S. mokarran) are classified as "Endangered," and smooth hammerheads (S. zygaena) are classified as "Vulnerable." In addition, hammerheads have very low recovery potential compared with other shark species, which makes them even more vulnerable to extinction. Prohibitions on retention of all hammerhead sharks (Sphyrna spp.) should be adopted at this year's IATTC meeting.
Prohibit the retention of silky sharks
Silky sharks (Carcharhinus falciformis) are the main species caught in purse seines, but they are caught in longline fisheries as well. Based on data from the ongoing silky shark assessment, their numbers in the IATTC region have declined significantly. Silky sharks are often mislabeled by fishermen, who refer to them as "punta negra" (black tip); therefore actual bycatch may be higher than reported, because some silky sharks are probably being recorded as black tips. Consequently, IATTC should take action to limit mortality of silky sharks by prohibiting their retention.
Ban the use of wire leaders (traces) in the longline fishery
Shark bycatch in IATTC fisheries is detrimental to the continued survival of many shark populations. Shark bycatch is higher on longlines that use wire leaders. Thus, the use of wire leaders creates a de facto targeted shark fishery. The use of monofilament leaders may actually increase the catch of some species of tuna and swordfish. Prohibiting wire leaders is a clear solution for reducing shark bycatch in longline fisheries.
Prohibit the removal of shark fins at sea
Up to 73 million sharks are killed annually, largely to support the global shark fin trade. While IATTC has taken actions to prevent finning, loopholes still hamper enforcement of the ban. IATTC should significantly strengthen the existing ban on finning by prohibiting the removal of shark fins at sea. This will also facilitate the collection of catch data on specific species and help ensure compliance with existing IATTC conservation and management measures for sharks.
Improve Compliance with IATTC's Conservation Measures Through Port State Measures and Unique Vessel Identifiers
Effective fisheries management depends, among other things, on flag and port States exercising their international responsibilities by adopting measures to identify fishing and support vessels, by sharing information with other countries and organizations, and by improving the capacity of enforcement officials, who often lack adequate information or tools.
Pew recommends that Contacting Parties:
Adopt a port inspection scheme that includes prior to entry notification requirements, priorities for inspection, the obligation to inspect IUU -listed vessels, minimum standards for inspection procedures for all parties, and follow-up actions.
Consider options for assisting developing States to build their capacity to implement PSMs.
Require any fishing and support vessels authorized to operate in the convention area of 100 GT/24 m or greater, and/or licensed to fish outside the flag State's EEZ, register with IH S-F and obtain an IMO number.
Require any fishing and support vessels that currently have an IMO number to provide it to the IATTC Secretariat, use it in all relevant communications, and make it publicly available, including on the IATTC website.
Strengthen Port State Measures
At the Kobe III meeting in 2011, participants reaffirmed the important role of port State measures (PSMs) to combat illegal, unreported, and unregulated (IUU) fishing and recommended that tuna RFMOs, developed States, and nongovernmental organizations accelerate efforts to provide capacity-building assistance for the implementation of PSMs.
The Pew Environment Group presented a gap analysis of RFMOs' capacity to implement PSMs and found that IATTC has significant room for improvement. Most notably, IATTC does not have an inspection scheme. Nor does it even require Parties to inspect IUU -listed vessels if they are in port. By adopting minimum standards for vessel inspection and inspection reports, and by requiring follow-up actions, IATTC Parties could significantly improve compliance with IATTC's conservation measures.
Pew is aware that a number of IATTC Parties may require assistance with training and funding to implement port State measures effectively. However, this should not prevent IATTC from taking the initiative to strengthen its PSMs. For example, the Indian Ocean Tuna Commission is undertaking capacity-building efforts to implement its recently adopted comprehensive port State control scheme in line with the minimum standards of the U.N. Food and Agriculture Organization (FAO) Port State Measures Agreement. IATTC Parties should also initiate actions to assist developing States in implementing new PSMs.
Adopt unique vessel identifiers for fishing and support vessels
The identification of fishing and support vessels through unique vessel identifiers (UVIs) is essential to establish a sound management system for tuna vessels and to enhance coordinated action against IUU fishing. Research conducted by the Pew Environment Group confirms the need for such instruments. Kobe III also acknowledged the need for progress by RFMOs on the implementation of UVIs.
Currently, the only fully developed and widely used UVI system is the International Maritime Organization (IMO) number provided through registry with the IHS -Fairplay ship numbering scheme (IHS -F, previously Lloyd's Register). At the Kobe III workshop in 2011 on the Consolidated List of Authorized Vessels, participants agreed that the IMO number represents the best option to identify individual vessels.
In addition, the FAO Technical Consultation to develop a global record of fishing vessels recommended that a first phase for the application of a UVI to fishing vessels cover all vessels of 100 gross tonnage (GT) or greater, or 24 meters or longer, and stated that the IMO numbering system is the only available option.