The Future We Want on World Oceans Day
Take Action!

To celebrate World Oceans Day, please take a minute and spread the word about threats to our ocean and opportunities to protect it.
Today, people around the world celebrate our ocean and call for its conservation. Covering 70 percent of the planet, its vast waters provide food, oxygen, jobs, and more. Although we heavily depend on the ocean, new fishing technologies, pollution, lax regulation, and a growing global human population with its higher demand for fish have all put the ocean's health at risk.
Did you know that:
85 percent of global fisheries are overexploited, depleted, or recovering from depletion, the highest ever.
a fifth of all fish caught were taken illegally.
less than 1 percent of our ocean is fully protected as marine reserves, in comparison with over 12 percent of land-based parks providing varying degrees of protection.
Although the future for our ocean could look bleak, there is time and opportunity to turn the tide. We know what needs to be done and how to do it; now we need the political will and action. The upcoming U.N. Conference on Sustainable Development, also known as Rio+20, provides a critical opportunity to protect our ocean.
It's more than just words: This is the time to reverse our ocean's decline so it can sustain marine and human life for centuries to come.
Take a moment to learn more about our ocean and Pew's work to protect it!


---
Video: End Overfishing or Fishing Will Be Over
Overfishing is emptying the oceans of fish. This summer, European Fish Weeks is the opportunity to tell politicians to, "end overfishing or fishing will be over. Politicians are responsible for making the decisions that will end overfishing; citizens have the responsibility to encourage and support them in making these decisions. European Fish Weeks is an opportunity to make your voice heard. Learn more.
---
Recipes: Top Chefs Cook Up Sustainable Seafood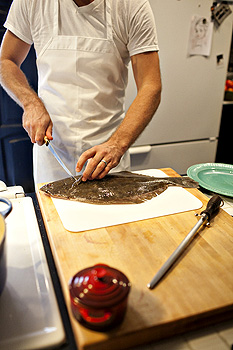 The federal law that sets conservation requirements for ocean fisheries, the Magnuson-Stevens Fishery Conservation and Management Act (MSA) has not only made a positive impact on U.S. fish populations; it has also made a difference to some of the country's most successful chefs and restaurant owners.
Americans love seafood. In a typical year, we consume nearly 5 billion pounds of it, an average of 16 pounds of fish and shellfish per person. Unfortunately, 86 percent of the seafood currently consumed in the United States comes from other nations. Historic overfishing has left us with a legacy of severely depleted fish populations in many regions of the country. For the restaurant industry and consumers, that translates to tough seafood choices—or no choice at all when the fish are gone.

That is why chefs from coast to coast are excited about the 2011 Status of U.S. Fisheries report from the National Oceanic and Atmospheric Administration (NOAA), which shows that solid gains were realized last year because of responsible management under the MSA. With customers increasingly demanding fresh, locally caught seafood, improvements in the health of three fish stocks—Mid-Atlantic summer flounder, Gulf of Mexico red snapper, and Alaskan snow crab—directly benefit U.S. businesses.

To thank Congress for its long-standing support of the MSA and to celebrate the progress in bringing fish populations back to healthy levels, the celebrity chefs have shared some of their favorite recipes. Try them out, visit their restaurants, and enjoy the benefits of strong, successful conservation.
---
Animation: Safeguarding Ocean Earth
Our ocean is critically important. Its water, which makes up 70 percent of the planet, supports a wide variety of marine life, communities, and jobs. Yet we treat it with too little respect. Although it has proved to be resilient, the ocean can keep giving us only so much.
This June, on the 20th anniversary of the first Earth Summit in Rio de Janeiro, leaders from around the world will return to the Brazilian city for the United Nations Conference on Sustainable Development (Rio+20) to renew political will to drive sustainable development forward. The agenda for this Rio+20 meeting is broad and ambitious, but now it's time to make the ocean count! It has been left off the priority list for too long, and it shows. Leaders can correct our course to ensure our ocean can sustain marine and human life in the decades to come.
---
Infographic: Western and Central Pacific Tuna
Western and Central Pacific Fisheries Commission will meet in Guam from March 26-30, and a key item on its agenda is conservation measures for tuna. View our infographic to learn why specific policies for the management of tropical tuna in the Pacific are so important.

---
Photo Gallery: Honduras Shark Fin Burning
"These animals are worth far more alive than dead."

- Honduras President Porfirio Lobo Sosa
One year after President Porfirio Lobo Sosa created a permanent shark sanctuary in Honduran waters, he joined the country's top law enforcement officials today to watch the burning of hundreds of illegal shark fins. These confiscated fins, worth up to $300 per pound ($700 per kg) in the global marketplace, were destroyed as part of ongoing efforts by authorities to enforce shark protections in Honduras.
The fins, mostly from nurse sharks, were seized in April by the Honduran navy. The International Union for Conservation of Nature reports that 30 percent of all shark populations around the world are threatened or near threatened with extinction.
Shark sanctuary enforcement efforts are gaining momentum worldwide. In 2011 and 2012, several other countries took similar action to enforce their laws, including Palau and the Marshall Islands, where vessels from Japan and Taiwan (Province of China) were fined $65,000 and $125,000, respectively.
---
Interactive Quiz: Our Ocean and Rio+20
Want more? Take the expanded version of our quiz.
---
Cartoons: Jim Toomey on Ocean Conservation
Jim Toomey, creator of the nationally syndicated daily comic strip Sherman's Lagoon, is a believer - in Bermuda's Blue Halo, that is. In this video, Jim and his underwater critters add their support to the Pew Environment Group's Global Ocean Legacy Bermuda Blue Halo Initiative, which proposes the designation of a highly protected marine reserve in the waters between Bermuda's local fishing area and its 200-mile exclusive economic zone boundary.
In a second video for Pew, Toomey enlists the help of Sherman to illustrate just how important sharks are to ocean health. Because sharks are at the top of the food web, protecting them is an important part of maintaining a healthy balance of life in the sea.
---
Infographic: Sharks Count
Sharks have roamed our oceans since before the time of dinosaurs, but today, they are in trouble. View our infographic to learn more about why we must protect these magnificent species.
---