Maps and Chart: USDA's Proposal for Colorado National Forest Roadless Areas
Safeguards for Colorado's undeveloped national forests would be weakened under a new Obama administration proposal. The plan would replace the popular Roadless Area Conservation Rule in the state's pristine roadless lands, expand coal mining, and could allow nearly 100 new oil and gas leases to go forward. The following pie chart shows how Colorado's 4.2 million acres of National Forest Inventoried Roadless Areas would be treated.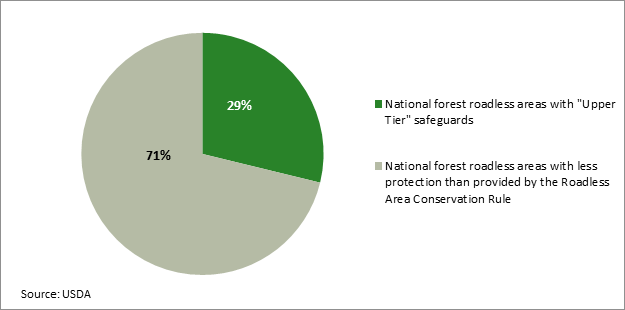 The map of Colorado national forests includes a separate blow-up of the Grand Junction-Glenwood Springs region, and the pristine roadless areas affected by "gap" leases. These are the nearly 100 oil and gas leases in the permitting pipeline that would not be allowed under the 2001 roadless rule, but could go through under the Obama administration's new Colorado plan. The map also highlights the "upper tier" of protections, which account for 29 percent of Colorado's 4.2 million acres of roadless areas. The other 71 percent of the state's roadless areas would receive lower standards than the national roadless rule.