Charged Up! Norfolk Business Community Promotes Electric Vehicles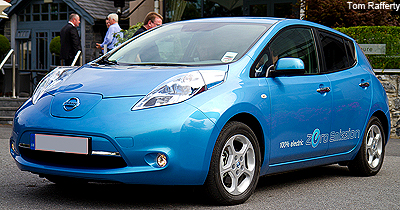 Last year, the average household spent a record $4,155 at the pump. Commodities analysts such as Tom Kloza, chief oil analyst at Oil Price Information Service, are predicting that 2012 could be one of the most expensive in history for drivers with prices exceeding $4 per gallon. 
Electric vehicles (EVs), however, can help consumers save money on fuel costs, reduce dependence on foreign oil and spur innovation and investment in American automakers. EVs can achieve operating efficiencies double that of internal-combustion engines and can be fueled at a cost of between two and three cents per mile. 
As a fuel, electricity can eliminate regular trips to the gas station and eliminate the expense of regular oil change maintenance.  This helps reduce our nation's dependence on imports, which accounts for nearly half of the petroleum consumed in the United States. Deployment of electric vehicles will also help America develop a robust supply chain and global economic opportunities in the worldwide competition to manufacture batteries and electric vehicles.
The Facts on EVs
"We spend nearly one billion dollars a day on oil imports," explains Phyllis Cuttino, director of the Pew Clean Energy Program. "This underscores the need for change to the nation's transportation system. The transition to electric vehicles will help America kick its oil addiction and strengthen our economy."
Alleyn Harned, executive director of Virginia Clean Cities, Inc., adds, "Most major automakers now offer or plan to deliver electric vehicles and plug-in hybrids. And numerous state and federal initiatives are underway to facilitate the necessary infrastructure to enable the transition to electric."
In fact, businesses and individuals can take advantage of a variety of incentive programs, including loans for alternative fuel vehicle projects and a federal tax credit of up to $7,500 for the purchase of qualified electric drive vehicles. Some utility companies also make it attractive to own an electric vehicle. Dominion Power of Virginia, for example, provides special residential pricing plans that include the installation of free EV-specific meters and reduced rates for charging during off-peak hours.
"All-electric vehicles are zero-emission, safe, work-ready cars and trucks. Consumers and fleet managers can realize lower total costs of ownership, and our country can both improve the environment and reduce our dependence on foreign oil," says Terry Langhorne, president, Norfolk-based Viridian Motor Corporation.
Today, automakers such as Chevrolet, Ford, Nissan, and Honda offer 29 hybrid electric vehicles and six plug-in electric cars for consumer purchase. Charging away from home is also becoming much easier. Today, Virginia has 93 charging stations, and there are more than 5,500 nationwide according to the Department of Energy. Retailers such as IKEA, Walgreens and others across the country are encouraging electric vehicle deployment by installing charging stations in parking lots.  Pike Research estimates there will be 1.5 million charging stations within the next five years—helping ensure the necessary infrastructure to support adoption of this clean car technology.
 
The Pew Charitable Trusts, Solar Services, and Virginia Clean Cities recently held a forum in Virginia Beach on Feb. 9 for business and community leaders to discuss incentives for the adoption of EVs. The event was held at Solar Services, which opened Virginia's first commercial EV plug-in station.