11 in '11: A Year in the Life of the Pew Environment Group
Read More

View the list of all eleven major accomplishments from 2011.
This has been a big year for the Pew Environment Group. With the support of our partners and allies, we achieved numerous victories that will help protect our oceans, preserve millions of acres of wildlands, and improve fuel efficiency.
Learn more about these successes by watching our new video highlighting 11 of our major accomplishments from 2011.
1. SHARKS!
Secured multiple protections for vulnerable species
The Pew Environment Group's continuing work led to the creation of four shark sanctuaries in Honduras, The Bahamas, Tokelau, and the Marshall Islands. Several U.S. states and territories also enacted bans on the sale, trade, or distribution of shark fins. Eight United Nations member states committed to new shark protections, and regional fisheries management organizations (RFMOs) agreed to protect silky and oceanic whitetip sharks.
2. BIG WINS FOR SMALL FISH
Set menhaden (pogies) on path to rebuilding
After decades of unregulated fishing for menhaden—the small, oily fish that provides food for many species of marine mammals, birds, and other fish—populations had fallen to less than 10 percent of the levels  of 50 years ago. Pew led a campaign that produced a commitment from menhaden fishery managers to reduce the harvest and allow the stock to rebuild and thrive.
Safeguarded krill, a food source for penguins
The international commission that manages commercial fishing in the Southern Ocean, around Antarctica, agreed to strengthen protections for krill, a tiny shrimplike creature that is a staple in the diets of animals higher on the food web, such as penguins, whales, and seals. At Pew's request, the commission will establish a fund to monitor the status of krill predators. It also will restrict catch in critical areas, enhance observation of fishing vessels, and ensure that the catch amounts are based on good science.
3. BETTER TRACKING FOR BLUEFIN
Improved the system for managing the tuna trade
ICCAT, the international body that manages the $1 billion bluefin tuna fishery in the Atlantic Ocean, established an electronic system to better track where the fish are caught and traded. The system will help address large and troubling discrepancies in the global trade of this fish that were identified in a Pew report. ICCAT also instituted stricter measures to help combat illegal fishing activities targeting bluefin and swordfish.
4. CONSERVING NORTH AMERICAN FORESTS, PART I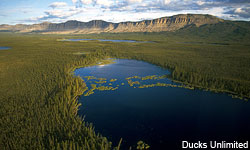 Secured commitment to protect half of Quebec's boreal
Pew has worked with the government of Quebec to protect the province's northern boreal forest, the largest intact ecosystem of this type in the world. In May, Premier Jean Charest unveiled a protection plan for the 425,000-square-mile northern region, including a commitment to put half of the boreal forest off limits to industrial activity—an area nearly the size of Texas. "Plan Nord," to be carried out over 25 years, represents the largest land conservation policy in history.
5. CONSERVING NORTH AMERICAN FORESTS, PART II
Helped shield the Roadless Rule from court challenges
Pew's forest campaigns have supported the development and defense of the landmark Roadless Area Conservation Rule since the 1990s in an effort to protect nearly 60 million acres of pristine national forests. This policy was upheld unanimously in October by the Denver-based 10th U.S. Circuit Court of Appeals. The decision removes the legal uncertainty that surrounded the rule for years, and it clears the way for the country's remaining undeveloped national forests to be safeguarded from most commercial logging and road-building.
6. HIGHER FUEL EFFICIENCY FOR U.S.
Backed raising standard to 54.5 mpg
Pew's long-standing efforts to secure higher vehicle fuel efficiency reached fruition in 2011, when the Obama administration announced its proposed rule to increase fuel efficiency for cars and light-duty trucks to 54.5 miles per gallon by 2025. The standard will save consumers up to $6,600 in fuel costs over the life of a model year 2025 vehicle. It also will save more than 4 billion barrels of oil and 2 billion metric tons of carbon emissions for cars and light trucks sold from 2017 to 2025.
7. PUTTING OCEANS ON THE RIO+20 AGENDA
Ensured that conservation of the seas will be addressed at U.N. conference
In June 2012, governments will meet at the U.N. Conference on Sustainable Development in Brazil to secure renewed political commitment to better manage the finite supply of natural resources on Earth. Pew's efforts in 2011 helped ensure that management of the ocean will be one of the seven priority areas addressed at the Rio+20 conference. Our goal is to slow or reverse the overexploitation of fish stocks, destruction of marine ecosystems, and steady loss of ocean biodiversity that threatens food security, economic stability, and the livelihoods of millions.
8. AUSTRALIA CONSERVATION ADVANCES
Protected the continent's "wild rivers"
After a campaign by Pew and Australian partner organizations, Australia's Queensland government took steps in December to protect one of the world's last great natural wetlands. Under the Wild Rivers Act, the Cooper's Creek, Georgina, and Diamantina rivers, whose irregular flooding transforms thousands of square miles of dry outback, will be permanently safeguarded.  The designation will protect 10 million acres, prohibit destructive activities such as mining and large-scale irrigation, create 10 Indigenous conservation ranger jobs, and support control of weeds and feral animals.
Partnered on landmark measures in northern Australia
The spectacular Fish River Station in Australia's remote Northern Territory was established as a conservation reserve in October. The 444,789-acre former cattle ranch, which includes a mix of natural systems supporting threatened species, was purchased by Pew, The Nature Conservancy, the Australian Indigenous Land Corporation, and the Australian Federal Government's National Reserve System program. The property will be managed by local Indigenous landowners. 
Secured investment for the stunning Kimberley Coast
Pew achieved two major victories for the unspoiled coastline of Western Australia's Kimberley region. First, the state government committed $50 million for conservation programs to tackle the region's key environmental challenges. It also announced plans to establish a marine park in its coastal waters and protect more than 2,000 square kilometers (772 square miles) used by migratory shorebirds and unique marine life. A quarter of the marine park will be exclusively protected as a no-take sanctuary.
9. DEEP SEA, CARIBBEAN, AND GULF FISH PROTECTIONS
Won significant area closures in the North Atlantic and protections for 17 species of deep sea sharks
Pew's deep sea campaign successfully advocated for fishing countries to close large areas of the ocean to protect life in the North Atlantic. As a result, approximately 80 percent of all seamounts—ecologically fragile submarine mountains—on the high seas of the northeast Atlantic are protected. Also as a result of Pew's work, the European Union banned directed fisheries for 17 species of deep sea sharks in the northeast Atlantic.
Gained protections for more than 100 fish species in southeastern U.S. waters and the Caribbean
After intensive Pew campaigns, fisheries managers took dramatic steps to prevent overfishing in the Gulf of Mexico, along the southeast coast from North Carolina to Florida, and in the U.S. Virgin Islands and Puerto Rico. Science-based catch limits were established for more than 100 species—the first caps ever placed on the total number of fish that can be caught annually.
10. WILDERNESS LEGISLATION SET FOR PASSAGE
Collaborated on introduction of 20 bipartisan bills in Congress
Pew's Campaign for America's Wilderness worked with local stakeholders and members of Congress from both sides of the aisle to achieve introduction of 20 measures to protect more than 2 million acres of wilderness in 11 states. Across the country, more of the remaining wild places will be permanently safeguarded to allow future generations to hunt, hike, camp, and canoe on these lands.
11. FUNDS FOR U.S. FISHERIES MONITORING
Secured a $161 million investment in fisheries research and monitoring programs
Fisheries research and monitoring programs promote conservation of vulnerable fish populations and support the fishing industry, which in 2009 generated $116 billion in sales and supported 1 million jobs. Responding to an innovative outreach effort from Pew and a coalition of fishermen and environmental groups, Congress increased funding for research and monitoring programs from $149 million in fiscal 2011 to $161 million in fiscal 2012.