Press Release
German Federal Minister joins citizens in supporting shark protection
BERLIN - As the European Parliament debates the future of the EU ban on shark 'finning', conservation groups, divers, scientists and other members of the public in Germany are highlighting the strong public support for shark conservation.
Shark Alliance representatives today demonstrated the importance of sharks to Germany and the EU for Ilse Aigner, German Minister for Food, Agriculture and Consumer Protection, with a book commemorating the public activities and events of last autumn's European Shark Week, and detailing Germany's national statistics for shark catches and trade.
"The public is increasingly concerned about the depletion and waste of sharks," said Heike Zidowitz, Coordinator of the Shark Alliance in Germany. "Sharks are in demand for their fins, meat, and liver oil, and yet they are generally slow growing animals that are especially susceptible to overfishing, and too often a low priority for fishery managers".
Of particular concern at the moment is the ongoing reform of the EU ban on shark finning (slicing off a shark's fins and discarding the body at sea), as the European Parliament is currently considering a proposal from the European Commission that would close serious loopholes in the ban by prohibiting any removal of shark fins on board vessels (so that sharks are landed with all of their fins still "naturally attached"). The proposal has been endorsed by all EU Fisheries Ministers except those from Spain and Portugal, home to Europe's largest fishing fleets.
To address these issues, 165.000 concerned citizens across Europe, including more than 14.000 from Germany, signed a petition urging EU fisheries ministers to fulfil the commitments of a 2009 EU Action Plan for shark conservation, through:
A complete ban on removing shark fins at sea
Shark and ray catch limits based on scientific advice and the precautionary approach
EU and national protections for endangered shark and ray species
Minister Aigner thanked Shark Alliance representatives for their commitment to shark conservation, and said that the petition reflects the great public interest in effective protection of shark populations. "Sharks are not only fascinating animals that have roamed our oceans for several hundred million years, they also play a vital role in the ocean's ecological balance. But because of their biological characteristics, they are also among the most threatened marine animals, and their populations are very susceptible to overfishing. The German government is therefore highly committed to supporting shark protection measures within EU and international forums".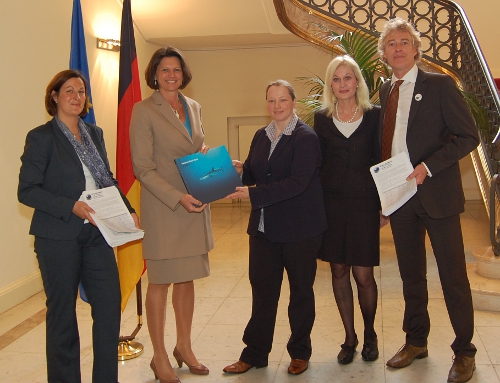 Ilse Aigner, German Minister for Food, Agriculture and Consumer Protection receiving a presentation on behalf of 14,000 German citizens from Heike Zidowitz, Coordinator of the Shark Alliance in Germany. Image (c) BMELV.
"Shark Alliance Member Groups in Germany applaud Minister Aigner's active support for the 'fins naturally attached' policy to prevent shark finning," added Zidowitz. "This stance reaffirms Germany's leadership role in improving shark conservation policy in the EU and around the world."
Editors notes:
Sharks in Germany: Germany has advanced the shark conservation debate on a global scale through groundbreaking, persistent efforts to list spiny dogfish ('spurdog') and porbeagle sharks under the Convention on International Trade in Endangered Species (CITES). Such action reflects a desire to act as a responsible shark consumer. Germany is also a leading supporter of a global shark conservation effort under the Convention on Migratory Species (CMS).
The smoked belly flaps of spurdog (known as 'Schillerlocken') are particularly popular in German fish markets and beer gardens.
Germany was one of the few EU Member States that took advantage of a derogation in the EU finning regulation to allow fishermen to remove shark fins at sea through special fishing permits. Germany stopped issuing these permits in 2008 and, therefore, now requires that all vessels land sharks with their fins still attached.
The EU Shark Action Plan, adopted in 2009, set the stage for sweeping improvements in EU shark fishing and protection policies but there is unfinished business. There are still no limits in place for the main targets of EU shark fisheries (blue and mako sharks), and, in most European countries, endangered species (such as hammerheads and giant devil rays) lack any specific, national protections and the EU finning ban still has huge loopholes that make it possible to fin sharks without detection or punishment.
Shark fins are the key ingredient in a traditional and expensive Asian soup. The EU, particularly Spain, is one of the world's largest suppliers of shark fins to Asia. The 2003 EU finning regulation generally prohibits shark fin removal on-board fishing vessels but allows for derogations through 'special fishing permits' granted by Member States. Portugal and Spain, the only EU Member States still issuing special permits, grant approximately 200 of them to most of their long-distance freezer longline vessels, which amount to the EU's largest shark fishing fleet. Fishermen onboard permitted vessels can remove shark fins whilst retaining the carcass. An excessive fin to carcass weight ratio limit is used to judge whether fins and bodies landed are in the appropriate proportion. According to the IUCN, fishermen could fin an estimated two to three sharks for each one landed and not exceed this high ratio limit. A policy requiring all sharks to be landed with their 'fins naturally attached' not only maximizes the enforceability of finning bans, but also facilitates the collection of species-specific data on shark catches that are sorely needed for population assessment and management
In November 2011, the Commission proposed amending the regulation to require that all sharks be landed with their 'fins naturally attached', following consultation which showed overwhelming support for this option. On 19 March 2012, the EU Council of Fisheries Ministers adopted a position in favour of the proposal. Germany supported this move with only Spain and Portugal opposing. The European Parliament is currently debating the issue.
The Shark Alliance is a coalition of more than 120 conservation, scientific, and recreational organisations dedicated to restoring and conserving shark populations by improving shark conservation policies. German member groups include Deepwave e.V., Deutsche Elasmobranchier-Gesellschaft e.V., Deutsche Umwelthilfe e.V., Gesellschaft zum Schutz der Meeressäugetiere e.V., Pro Wildlife e.V., Reef Check e.V. and Verband Deutscher Sporttaucher e.V.
European Shark Week: For the past five years, every October, members of the Shark Alliance in Europe, working with aquariums and other shark enthusiasts, have run a week of public activities to promote shark appreciation and to call for conservation measures. European Shark Week in Germany saw events, lectures, film screenings and exhibitions around the country.
For more information, images and media interviews:
Sophie Hulme,Tel: +44 (0) 7973 712 869.
Email:sophie@communicationsinc.co.uk