Opinion
We Don't Know How Much We Spend On Disasters, and That Needs To Change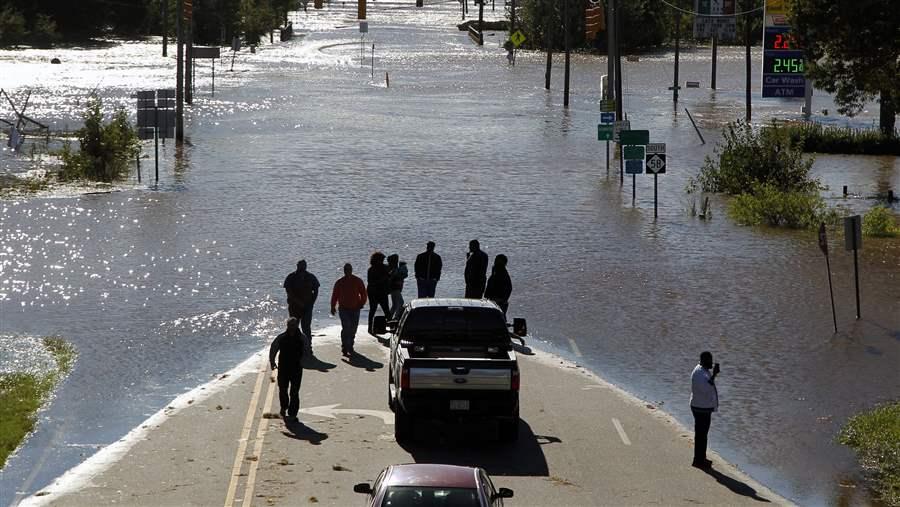 As North Carolina deals with the effects of Hurricane Matthew, people are stopped by floodwaters washing over a highway in Nashville on Oct. 9, 2016.
© Getty Images
In the days after Hurricane Matthew made landfall on Oct. 8, the Federal Emergency Management Agency (FEMA) distributed 6 million meals, 1.1 million gallons of water, and 87,000 blankets, providing a critical lifeline to residents of Florida, Georgia, South Carolina, and North Carolina.
But as with any disaster, meeting these immediate needs is only the beginning of many millions of dollars of federal assistance over months and years to state and local governments, tribes, businesses, and individuals in the affected states.
Over the past two decades, FEMA has seen a 212 percent increase in its Public Assistance Grant Program, the largest source of federal disaster assistance to state and local governments, from an annual average of $1.8 billion from 1996 to 2005 to $5.5 billion per year from 2006 to 2015. But these dollar figures are just the tip of the iceberg and do not include what other federal agencies—including the Departments of Defense, Health and Human Services, and Housing and Urban Development—have spent on disaster response, recovery, and mitigation.
Ingrid Schroeder directs fiscal federalism initiatives for The Pew Charitable Trusts.