News
The School Food Modernization Act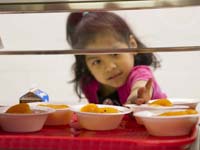 By serving students healthier meals and snacks, schools can play a critical role in reversing the childhood obesity epidemic in the United States, where more than 23 million kids are overweight or obese. The good news is that 90 percent of schools are already meeting stronger national nutrition standards by offering meals with more fruits, vegetables, and whole grains and less fat, sugar, and salt.
Many schools, however, are meeting the standards despite the fact that their cooking facilities lack the right tools to efficiently prepare wholesome, delicious meals. They're using costly and inefficient workarounds because many school kitchens were designed decades ago to do little more than reheat and hold prepackaged items, and they do not support robust cooking.
To help school districts serve healthy and appealing food, Senators Susan Collins (R-ME) and Heidi Heitkamp (D-ND) and Representatives Tom Latham (R-IA) and Mike McIntyre (D-NC) introduced bipartisan legislation, the School Food Modernization Act (S. 2210/H.R. 1783), which would:
Establish a loan assistance program within the U.S. Department of Agriculture to help schools acquire new equipment to prepare and serve healthier, more nutritious meals to students. School administrators and other eligible borrowers would obtain federal guarantees for a significant portion of the loan value needed to construct, remodel, or expand their kitchen, dining, or food storage infrastructure.
Provide targeted grant assistance to give school administrators and food service directors the catalyst funding they need for smaller projects to upgrade kitchen infrastructure or to purchase high-quality, durable kitchen equipment such as commercial ovens, steamers, stoves, and refrigeration units.
Strengthen training and provide technical assistance to aid school food service personnel in meeting the updated nutrition guidelines. Not all food service employees have the skills and expertise needed to comply with the standards for healthier meals and food preparation. The proposed legislation would authorize the USDA to provide support on a competitive basis to highly qualified third-party trainers to develop and administer training and technical assistance.
INVESTING IN SCHOOL KITCHENS CAN MAKE A BIG DIFFERENCE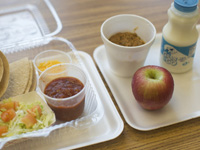 Two recent examples illustrate the strong arguments for targeted investments in new kitchen equipment.
MISSISSIPPI
Already national leaders in school nutrition standards, Mississippi's schools engaged in a 2009 statewide obesity prevention campaign and received $1.7 million in federal funds to purchase kitchen equipment. Under the leadership of then-Governor Haley Barbour and the Governor's Task Force on Childhood Obesity, the Healthy Kids, Healthy Mississippi initiative identified a wide range of policy options to help state leaders improve child health and reduce obesity, ranking upgrades in school kitchen equipment among the top three priorities for action.

Replacing deep-fat fryers with combination oven steamers enabled schools to serve baked chicken tenders and whole-grain rolls as alternatives to fried chicken and other higher-fat foods. Such modifications resulted in a significant reduction in the calories and saturated fat in school meals, and the healthier baked products received an overwhelmingly positive response from students and staff. These changes may be paying off. Recent data suggest that rates of childhood obesity in Mississippi have started to decline.
MADISON, WI
The Whole Kids Foundation, a charitable arm of grocery store chain Whole Foods Market, recently donated 15 salad bars to Madison, Wisconsin, area elementary schools. This contribution was a small investment that school administrators highly value. Steve Youngbauer, director of food services for the Madison Metropolitan School District, said, "Offering a salad bar option for students may be the most impactful change that school districts can make within a child nutrition program." The schools appreciate the healthier choices, but adding salad bars can require further expenditures.
News reports indicate that most Madison schools lack adequate kitchen infrastructure to fully support freshly prepared salad bars. They may not have the appropriate refrigeration for fresh vegetables or regulation sinks to wash tongs and trays. Targeted, competitive federal grant funding is still needed to fully modernize kitchens and cafeterias to help school districts meet the USDA's updated nutritional standards for school meals and to ultimately help schools and parents improve kids' health.