Event
Shoring up Communities
Investing in resilient infrastructure
March 14, 2017
3:30 - 5:00 PM
Update: This event has been postponed, due to inclement weather. It will be rescheduled for a future date.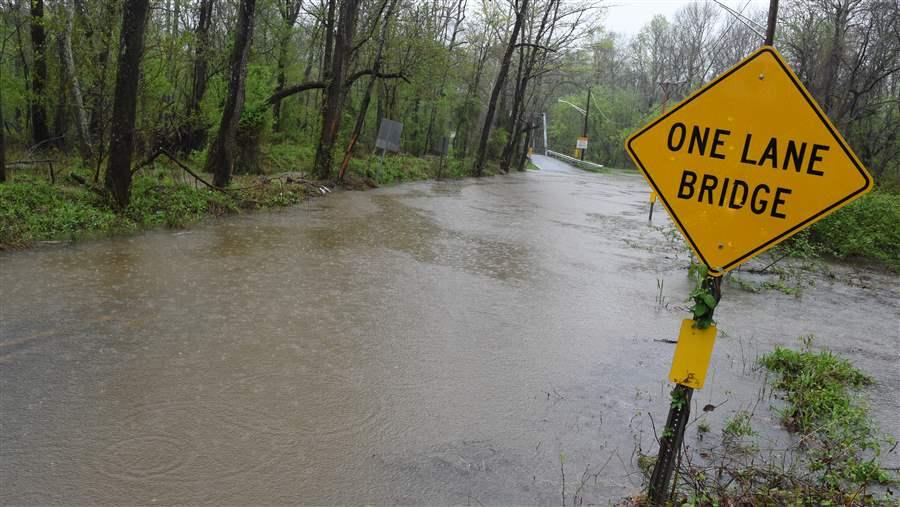 Governors Bridge Road in Bowie, MD, floods as a massive storm drops heavy rain on the region in April 2014.
© The Washington Post
Please join The Pew Charitable Trusts for a discussion on the challenges facing our country's infrastructure and approaches to safeguarding it from the effects of severe weather. It will center on how the Trump administration and Congress can help the United States withstand natural disasters by modernizing infrastructure through smart policy and solid funding and incorporating nature-based solutions. Leading mayors will draw on their experience to address how the country can finance innovative infrastructure projects that boost global competitiveness and save taxpayer dollars.
Discussion:
Joseph P. Riley, former mayor of Charleston, South Carolina, and Pew Distinguished Fellow.
Carlos Gimenez, mayor of Miami-Dade County, Florida.
Christopher Flavelle, Bloomberg News reporter.
Tamera Luzzatto, Pew's senior vice president of government relations, will provide introductory remarks.
Policy panel:
Harriet Tregoning, former principal deputy assistant secretary for community planning and development at the Department of Housing and Urban Development.
Charles Brittingham, senior vice president of Cassidy Associates and former policy adviser to the Senate Committee on Environment and Public Works.
Laurens van der Tak, vice president of water resources and ecosystem management at engineering firm CH2M Hill
Laura Lightbody, Pew's project director of the flood-prepared communities initiative will moderate
Please Note
Pew makes every effort to comply with federal, state, and local government ethics rules, including when hosting events. Please make sure that your participation is consistent with applicable ethics rules.
Event Details
Date:
Tuesday, March 14, 2017
Time:
3:30-5:00 PM (Reception to follow)
Location:
The Pew Charitable Trusts
901 E St. NW
Washington, D.C., 20004